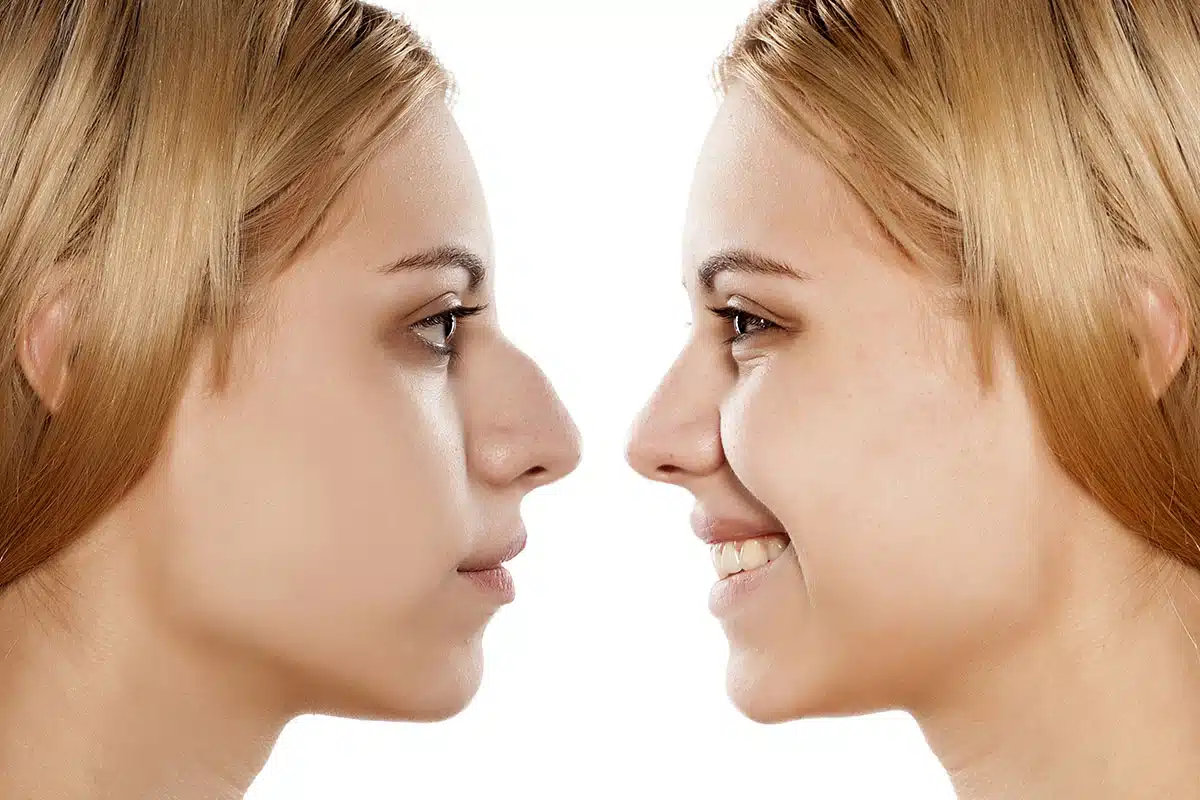 Rhinoplasty, commonly known as a nose job, is a type of facial plastic surgery that alters the shape or function of the nose. While it is generally a safe procedure, complications can arise in some cases.
This concern is a pollybeak deformity, which develops as a result of previous rhinoplasty surgery.
This article aims to provide a comprehensive overview of pollybeak deformity, the types of deformities, and the various treatment options available for patients.
What is a Pollybeak Deformity?
A pollybeak deformity after rhinoplasty surgery, also known as supratip deformity, is a common complication that affects many rhinoplasty patients across New Jersey. This condition is characterized by an excessive fullness or convexity in the nasal profile, specifically in the area just above the tip of the nose, giving it a characteristic bird-like appearance. The name 'Pollybeak' is derived from this distinctive parrot beak appearance.
This deformity can occur as a result of several factors, including the inadequate removal or aggressive removal of cartilage during the initial rhinoplasty procedure, the development of scar tissue, or poor healing.
In some cases, it may be due to the formation of excess supratip tissue or unexpected scar tissue growth. Inexperienced surgeons are the primary cause of this problem because they do not comprehend the anatomy of the nose or how it will recover from rhinoplasty surgery. Some patients experience pollybeak deformity even after undergoing a second revision procedure.
Note that some patients mistake the swelling that follows surgery for the pollybeak deformity. This complication might be concealed by the swelling. After rhinoplasty, swelling may persist for up to a year. Until then, you cannot be certain if you have this issue.
The deformity can be identified as early as 1-2 months post-surgery, but in some cases, it may not become apparent until 3-6 months after the procedure. Overall, the risk factors for developing a pollybeak deformity include the type of rhinoplasty performed, the surgical technique used, and individual healing characteristics.
Types of Beak Nose Deformity
There are two main types of pollybeak deformity: cartilaginous pollybeak deformity and soft tissue pollybeak deformity.
Cartilaginous Pollybeak Deformity
A cartilaginous pollybeak deformity occurs when there is an excess of cartilage in the supratip area of the nose. This can happen if the surgeon leaves too much cartilage during the primary rhinoplasty surgery or if the nasal tip cartilage is not adequately supported, causing it to droop and create a beak-like appearance. It is generally more challenging to correct than a soft tissue pollybeak deformity, as it often requires a revision rhinoplasty to remove the excess cartilage and reshape the nasal tip.
Soft Tissue Pollybeak Deformity
On the other hand, a soft tissue pollybeak deformity is caused by an excess of scar tissue or swelling in the supratip area. This can occur if the skin does not heal properly after surgery or the patient is predisposed to form excess scar tissue. In some cases, the development of scar tissue can be so excessive that it creates a noticeable fullness in the supratip area, leading to the characteristic bird-like appearance. Treatment for a soft tissue pollybeak deformity typically involves non-surgical methods such as steroid injections or dermal fillers.
Treatment Options for a Prominent Nasal Deformity After Rhinoplasty
Treating a pollybeak after rhinoplasty depends on its severity and the patient's circumstances. Non-surgical treatments like steroid injections or dermal fillers are often effective for soft tissue Pollybeak deformities. More severe cases, particularly those involving excess cartilage, may require a revision rhinoplasty procedure.
Steroid Injections
Steroid injections are a non-surgical treatment option for mild to moderate soft tissue pollybeak deformities. The injection of a steroid into the supratip area can help reduce inflammation and excess scar tissue, helping to restore a more natural nose shape. This minimally invasive treatment option can often be performed in a clinic setting. However, it may take several sessions to achieve the desired results.
Liquid Nose Job (Dermal Fillers)
Another non-surgical treatment option is the use of dermal fillers, also known as a liquid nose job. This involves injecting a filler material into specific areas of the nose to correct minor imperfections. In the case of a soft tissue pollybeak deformity, dermal fillers can help smooth out the nasal profile and reduce the appearance of the deformity. This treatment can be a good option for patients seeking a non-invasive solution, but the results are temporary, and the procedure may need to be repeated every 6-12 months.
Revision Rhinoplasty (Corrective Surgery)
Revision rhinoplasty is a surgical procedure that is often used to correct more severe cases of pollybeak deformity, particularly those involving excess cartilage or poor healing from a previous rhinoplasty procedure. This corrective surgery involves a thorough assessment of the nasal structure, followed by careful reshaping and repositioning of the nasal tissues to achieve a balanced and natural-looking nose.
The procedure is performed under general anesthesia and can take anywhere from 1-3 hours, depending on the complexity of the case. It is a more invasive option compared to steroid injections or dermal fillers, but it can provide more permanent and significant results. However, patients should be aware that revision rhinoplasty carries its risk factors, including scarring, breathing problems, diminished skin elasticity, and infection.
After surgery, the patient may experience swelling and bruising, which typically subsides within 1-2 weeks. The full recovery and final results can be seen after 3-6 months once the nose has completely healed and settled into its new shape.
The Importance of Choosing an Experienced Plastic Surgeon
Choosing an experienced plastic surgeon is crucial when considering any rhinoplasty, especially a revision procedure. The surgeon's expertise in rhinoplasty procedures, understanding of nasal anatomy, and ability to manage potential complications are all critical factors in achieving successful results.
In the case of pollybeak deformity, it is particularly important to choose a surgeon who has a deep understanding of the underlying causes and can provide a comprehensive treatment plan tailored to the individual patient's needs. This includes the technical aspects of surgery and the ability to communicate effectively with patients, understand their aesthetic goals, and provide realistic expectations.
Dr. Daniel G. Becker at the Becker Rhinoplasty Center in New Jersey is a renowned facial plastic surgeon with significant contributions to the field of rhinoplasty. Known for prioritizing patient happiness and aiming for natural, un-operated looks, Dr. Becker's compassionate care and exceptional results have earned him recognition from multiple organizations.
Patients considering corrective surgery for pollybeak deformity can request a consultation online to discuss potential treatment options and expectations.