ASIAN RHINOPLASTY NEW JERSEY AND PHILADELPHIA
Rhinoplasty is a complex nose-reshaping surgery that requires experience and skill, especially for Asian patients who want to improve their noses without altering their beautiful facial features. Board-certified facial plastic surgeon Dr. Daniel G. Becker, MD, FACS, prioritizes techniques that preserve his Asian patient's features during rhinoplasty. He has many years of experience as an Asian rhinoplasty specialist and is recognized internationally as an expert in primary, ethnic, and revision rhinoplasty.
About Asian Rhinoplasty Surgery
Asian rhinoplasty, also known as an Asian nose job, is a complex procedure performed to improve breathing or enhance the nose's appearance in Asian patients. Asian rhinoplasty patients typically feature a full nasal tip, flat profile, thick nasal skin, flared nostrils, and a shorter nasal bridge.
This ethnic rhinoplasty requires extensive knowledge of rhinoplasty and awareness of Asian nasal characteristics to ensure natural-looking results and restoration of function. It can be either functional or cosmetic.
Functional Asian rhinoplasty opens passages and removes blockages that cause snoring or trouble breathing during exercise or exertion.
Cosmetic rhinoplasty is performed on the nose to improve the profile; as reconstructive surgery to repair the nasal structure after an injury; straighten, reduce the size of, or lengthen the nose; or remove a dorsal hump.
View before and after photos of Asian rhinoplasty in New Jersey and Philadelphia.
Benefits of Asian Rhinoplasty
Asian rhinoplasty is a leading cosmetic procedure among Asians worldwide, second only to eyelid surgery. The Asian rhinoplasty procedure enhances the patient's appearance without compromising their cultural beauty.
The benefits of Asian rhinoplasty are adjusted to match the patient's cosmetic goals and may include the following:
Raising the nasal bridge to add height and definition to a flattened nose
Changing a bulbous nasal tip
Increasing nasal projection
Adjusting the shape or width of the nostrils
Improving facial balance and harmony
Revising a prior nasal surgery to improve overcorrection, breathing issues, asymmetry, or implant complications.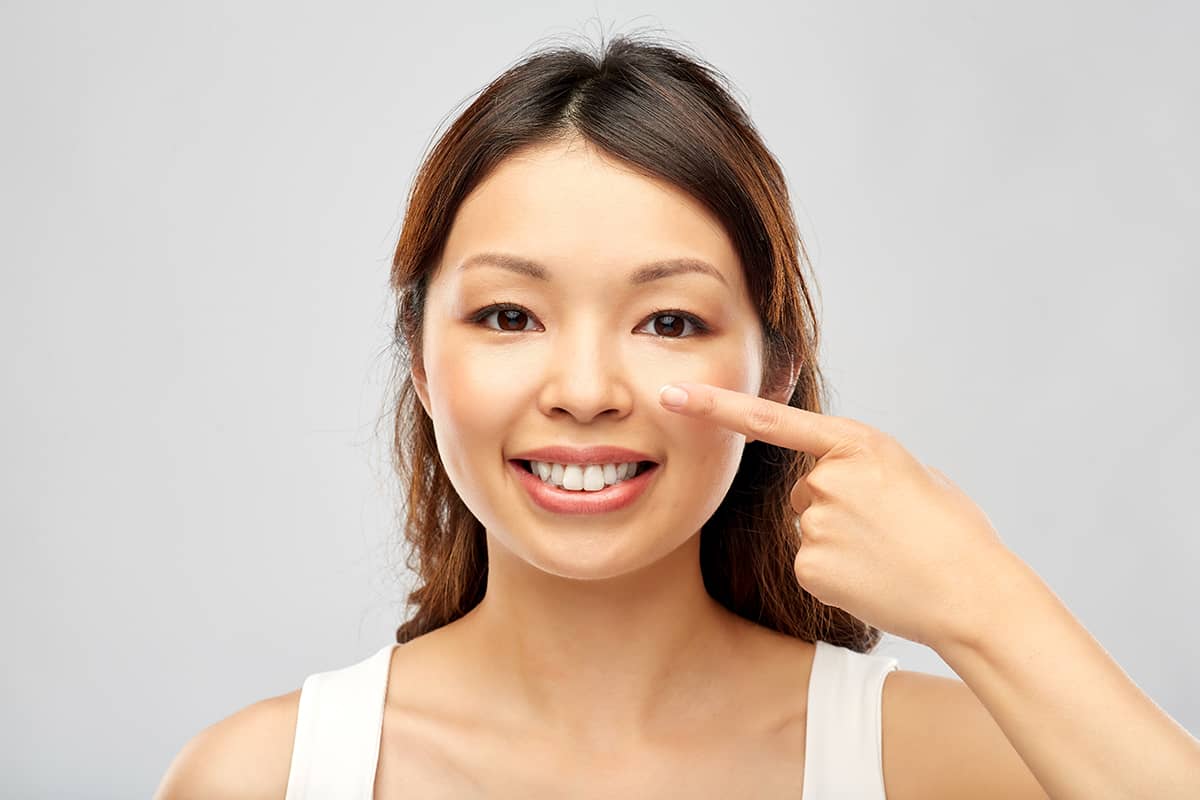 Dr. Becker's expertise and keen eye for Asian beauty ensure optimal results without compromising the patient's natural features. The complexities of Asian descent anatomy are an essential aspect of each rhinoplasty procedure, and the outcome of the surgery is based on the patient's desires.
Asian Nose Job Candidates
Asian rhinoplasty candidates are adults who want to alter their nose size, shape, or function. They must be healthy enough to undergo surgery, able to explain the changes they are interested in and have realistic goals. Dr. Becker works closely with each patient to identify and resolve undesirable characteristics while preserving their natural appearance and beautiful cultural authenticity.
Asian Rhinoplasty Consultation
Individuals interested in learning more about the Asian rhinoplasty procedure and its benefits can request a consultation at the Becker Rhinoplasty Center. During the consultation, Dr. Becker performs an examination, reviews the patient's medical history, and discusses their aesthetic concerns and expectations. Computerized imaging offers a simulated photo of the expected post-surgery results.
Expert Tips for Prepping for an Asian Nose Job
Dr. Becker has two conveniently located offices in Voorhees, NJ, across from the Delaware River, and in Philadelphia, PA. Most patients travel within the United States to have rhinoplasty surgery with Dr. Becker. However, Becker Rhinoplasty Center also accommodates patients who travel internationally to have surgery performed by world-renowned rhinoplasty specialist Dr. Becker.
Patients who travel to New Jersey for the procedure should plan to stay in town one to two weeks after the surgery to heal and attend follow-up appointments. Out-of-town patients must solidify their travel plans and hotel arrangements before the procedure. Staff is available to assist with lodging and travel recommendations.
Dr. Becker provides complete prep and aftercare instructions, which may include:
Coordinating a ride to and from the facility on the day of their surgery
Purchasing appropriate pillows for head elevation
Preparing easily-accessible healthy food and beverages
Using antimicrobial soap before the surgery to reduce the risk of infection
Wearing button-down shirts during recovery
Quitting smoking at least two weeks before the surgery
Taking at least a week off work or school
Avoiding NSAIDs, aspirin, vitamin E, and certain herbal supplements or medications that increase the risk of bleeding for two weeks before the surgery
How an Asian Rhinoplasty is Performed
Asian rhinoplasty is personalized to match each patient's goals. General anesthesia is typically used during the procedure to ensure the patient sleeps comfortably. An incision is created along the base of the nose, which makes a single scar hidden in the crease.
Raising the Nasal Bridge
Asian rhinoplasty may involve raising the nasal bridge to add height and definition using a synthetic silicone implant or a cartilage graph taken from the rib.
Refining the Nasal Tip
Asian rhinoplasty often includes refining the nasal tip for a sleeker or more defined appearance. This aspect of the surgery involves trimming cartilage and blending and repositioning cartilage. Patients with thick nasal skin may require more cartilage alteration to create more significant results. A graft is not typically needed, but it could be used to achieve the desired effect.
Increasing Tip Projection
Increasing the nasal tip projection is often a part of Asian rhinoplasty. Surgical techniques enhance the tip, and grafts may be taken from the septum between the nasal passages, ear, or rib to increase the nasal tip, improve the framework, and create a desirable nose shape.
Reducing the Width of the Nostrils
The rhinoplasty surgeon may reduce the width of the base during Asian rhinoplasty to lessen large, flared nostrils. He may remove some tissue from the nostrils, bring them inwards, and suture them into a new position to narrow the nostrils.
Most Asian rhinoplasty procedures provide discreet changes that are impactful and appear natural. Dr. Becker uses his artistic eye and surgical skills to shape the nose, correct nasal asymmetry, and enhance overall facial harmony.

Asian Rhinoplasty Recovery
Asian rhinoplasty is a same-day, outpatient procedure. Patients typically sleep for much of the first day and should have someone stay with them for the first 24 to 48 hours. Pain and discomfort are controlled with medication distributed by their caregiver.
Patients must keep their heads slightly elevated at a 45° angle while sitting or lying down. A lightly applied cool compress can reduce nasal swelling. The doctor encourages patients to relax for one week before resuming moderate normal activities.
One Week Post Nose Surgery
Patients will visit Dr. Becker in one week. The nasal cast is typically removed at this visit, and most bruising disappears in approximately two weeks. The nose takes on its new refined shape without apparent signs of surgery within several months.
Potential Risks and Side Effects of Asian Rhinoplasty
Asian rhinoplasty is a safe procedure with minimal recovery and side effects. There are risks with any facial plastic surgery, which may include infection, bleeding, scarring, and side effects from anesthesia. Most patients experience bruising, swelling, and nasal congestion after their surgery. Dr. Becker explains the side effects and recovery during the consultation.
Frequently Asked Questions About Asian Rhinoplasty
Schedule Your Asian Rhinoplasty Appointment
Board-certified plastic surgeon Dr. Daniel G. Becker, MD, FACS, has an extensive experience in African-American rhinoplasty and is respected internationally for his skill and expertise. Call 856-772-1617 to learn more about Asian rhinoplasty in New Jersey and Philadelphia, or request a consultation online at Becker Rhinoplasty Center, an affiliate of Penn Medicine Ear Nose and Throat Network.