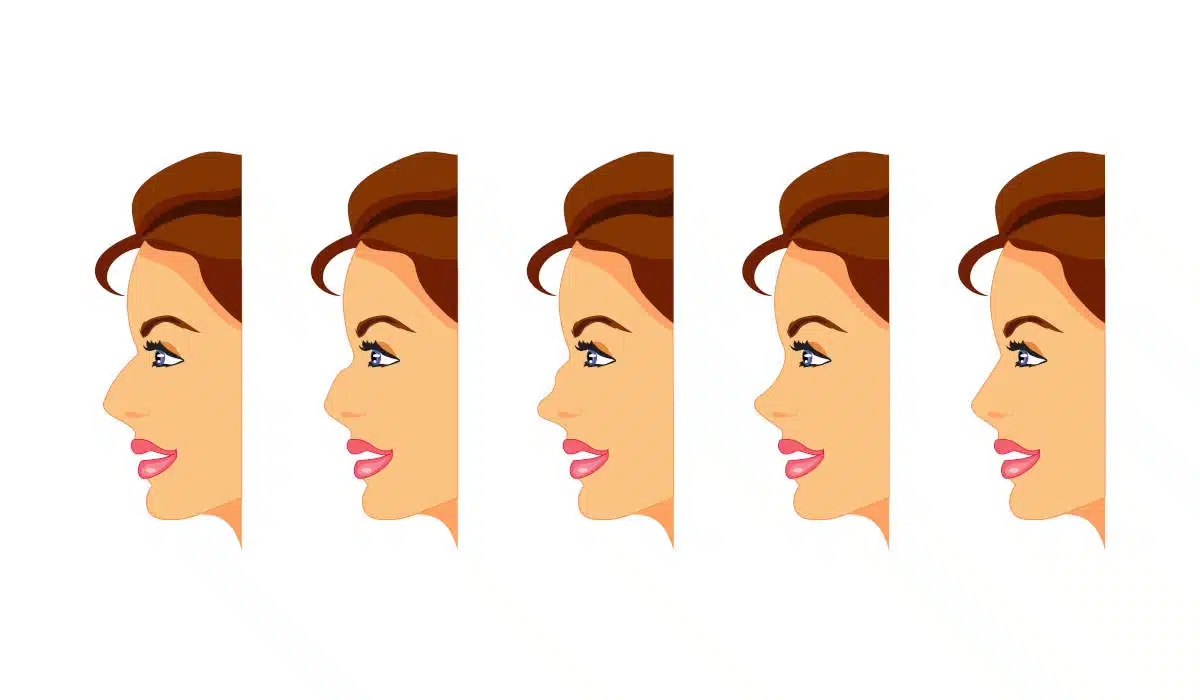 Noses are a central feature of our faces and come in various shapes and sizes. They play a crucial role in our appearance and our ability to breathe. This article will discuss the different types of noses, their characteristics, and how rhinoplasty procedures can address specific issues related to various nose shapes while helping to fix breathing issues.
What is an "Average-Sized" Nose?
An average-sized nose is a subjective term, as there is no definitive measurement for what constitutes an average nose size. Generally, an average-sized nose is proportional to the rest of the facial features and does not draw attention away from other aspects of the face.
Types of Nose Shapes by Ethnicity
Nose shapes can be influenced by various factors, including genetics and ethnicity. Here, we will explore some common nose types found in different ethnic groups.
Caucasian Nose
Caucasian noses are often characterized by a prominent bridge and narrow nostrils. There are two common nose shapes of Caucasian noses:
Roman Nose
The Roman nose, also known as an aquiline nose or a hooked nose, is characterized by a prominent bridge that curves downwards, resembling the beak of a predatory bird. This type of nose is often associated with strength and nobility and can be seen in historical figures like Julius Caesar but also in celebrities like Daniel Radcliffe.
Greek Nose
The Greek nose, also known as a straight nose, features a straight bridge and a slightly upturned tip. This nose shape is considered classically beautiful and can be seen in famous celebrities like Jennifer Aniston.
African Nose
African noses are often defined by a broad base and flared nostrils. They most commonly fall into one of two categories:
Nubian Nose
The Nubian nose is characterized by a broad base, wider bridge as the most prominent feature and rounded tip. Nubian nose shapes are common among individuals of African descent, such as former President Barack Obama and actress Gabrielle Union.
Flat Nose
The flat nose is characterized by a low, flat nasal bridge and wide nostrils. People of African and certain Asian origins frequently have this type of nose shape.
Asian Nose
Asian noses often feature a low nasal bridge and rounded tip. Asian noses typically come in two different shapes:
East Asia Nose
The East Asia nose is characterized by a flat nasal bridge and wide base. This nose shape is common among individuals of East Asian descent, such as Chinese, Japanese, and Korean individuals.
Small Nose
The small nose is characterized by a short nasal bridge and narrow nostrils. People of Southeast Asian heritage, such as Vietnamese, Thai, and Filipino people, tend to have this type of nose shape.
Snub Nose
The snub nose, also known as a button nose or celestial nose, is characterized by a small, upturned tip and a short, straight bridge. Upturned noses like this are considered cute and youthful and can be seen in famous celebrities like Elizabeth Taylor and Emma Stone.
Bulbous Nose
A bulbous nose features a rounded, prominent tip that may appear larger in proportion to the rest of the nose. Some famous examples of this nose include celebrities like Scarlett Johansson and Bill Clinton.
Bumpy Nose
A bumpy nose, also known as a hump nose, is characterized by a prominent bump or hump on the nasal bridge. This nose shape can create a unique profile and can be seen in celebrities like Owen Wilson and Barbra Streisand.
Which types of Rhinoplasty work for the Different Types of Noses
There are several types of rhinoplasty procedures (nose jobs) that can address the various nose shapes and issues associated with them. Some common rhinoplasty procedures include:
Augmentation Rhinoplasty
Augmentation rhinoplasty involves adding height or projection to the nasal bridge or tip. This procedure is often used for flat or small noses, as well as to correct asymmetry or other deformities.
Reduction Rhinoplasty
Reduction rhinoplasty surgery focuses on reducing the size or prominence of specific nasal features, such as a large nasal hump or a tip with a bulbous appearance. This procedure can help create a more balanced and harmonious facial appearance.
Reconstructive Rhinoplasty
Reconstructive rhinoplasty is a surgical procedure used to repair or rebuild the nasal structures as well as the bony structure following trauma, cancer treatment, or congenital defects. This procedure often involves using cartilage grafts from other areas of the body to restore the nose's shape and function.
Revision Rhinoplasty
Revision rhinoplasty is a complex procedure performed to correct issues that may have arisen from a previous rhinoplasty procedure. This can include addressing aesthetic concerns, such as asymmetry or irregularities, or functional issues, such as breathing difficulties.
Post-Traumatic Rhinoplasty
Post-traumatic rhinoplasty is a cosmetic procedure used to address issues that have arisen due to injury or trauma to the nose, such as a broken nose or a deviated septum. This type of rhinoplasty can involve realigning the nasal bones, reshaping the cartilage, and correcting any functional issues that may have resulted from the injury.
Frequently Asked Questions
How long does a rhinoplasty take?
Rhinoplasty typically takes about 2 to 3 hours, but the exact duration can vary depending on the complexity of the procedure and the surgeon's expertise.
How long does it take to recover from a nose job?
The initial recovery period for rhinoplasty is approximately 1 to 2 weeks. However, full recovery and final results may take several months as swelling gradually subsides and the nose settles into its new shape.
is rhinoplasty dangerous?
Rhinoplasty is generally considered a safe procedure when performed by a board-certified plastic surgeon with experience in nasal surgery. Like any surgical procedure, there are risks involved, such as infection or anesthesia complications, but these risks are minimized when the surgery is conducted by a qualified professional in an accredited facility. It's crucial to discuss potential risks and benefits with your surgeon before undergoing rhinoplasty.
Why Choose a Rhinoplasty Specialist as Your Plastic Surgeon
When considering a nose job, it is crucial to choose a specialist with extensive experience and expertise in the field. Here are some reasons to choose a rhinoplasty specialist as your plastic surgeon:
Expertise: An expert rhinoplasty surgeon has dedicated their career to mastering the art and science of nose reshaping surgery. They have a thorough understanding of the complex anatomy of the nose and the techniques required to achieve optimal results.
Experience: A specialist in rhinoplasty surgery has performed numerous plastic surgeries and has a proven track record of success. They have encountered a wide range of nose shapes and issues and are better equipped to handle any complications that may arise during surgery.
Customized Treatment Plan: A rhinoplasty professional will work closely with you to develop a personalized treatment plan that addresses your unique concerns and goals. They will take the time to understand your desired outcome and create a surgical plan tailored to your specific needs.
Natural Results: An experienced plastic surgeon aims to achieve natural, un-operated-looking results that enhance your facial harmony. They understand the importance of maintaining the character and balance of your face while making subtle changes to improve your overall appearance.
Safety and Patient Satisfaction: A patient's safety and satisfaction are every rhinoplasty specialist's priority. They will carefully evaluate your medical history and overall health to ensure that you are a suitable candidate for the procedure and will discuss any potential risks and complications with you before proceeding with surgery.
Board-Certified Plastic Surgeon: A board certification ensures that a surgeon has undergone rigorous training and examination to meet the highest standards of their profession. In addition, the certification serves as a testament to their dedication to providing safe, ethical, and effective patient care. By selecting a board-certified rhinoplasty specialist, you can feel confident that you are in the hands of a highly skilled and qualified surgeon who is committed to achieving the best possible results for you.
Selecting a rhinoplasty specialist, like Dr. Daniel G. Becker, as your plastic surgeon is essential for achieving the best possible outcome for your nose surgery. Their expertise, experience, and dedication to patient satisfaction will ensure that you receive the highest level of care and results that enhance your facial harmony and boost your confidence.