AFRICAN AMERICAN RHINOPLASTY NEW JERSEY AND PHILADELPHIA
Board-certified facial plastic surgeon Dr. Daniel G. Becker, MD, FACS, understands the importance of protecting and maintaining each patient's natural design and beautiful heritage with African American rhinoplasty in New Jersey and Philadelphia. Dr. Becker is an ethnic rhinoplasty specialist recognized internationally as highly-skilled in primary, ethnic, and revision rhinoplasty.
Unlock African American Rhinoplasty Advantages
Experience the perfect blend of aesthetic refinement and cultural respect with African American Rhinoplasty by Dr. Becker. This specialized procedure considers unique factors like bone density and skin thickness to offer results that honor your heritage while enhancing your natural beauty. Discover the advantages that offer both cosmetic and functional improvements.
1
Heritage-Preserving Aesthetics
Dr. Becker's procedure minimizes cosmetic flaws and refines your nose while preserving your unique beauty and heritage.
2
Functional Improvement
Beyond aesthetics, the procedure corrects breathing issues caused by a deviated septum, contributing to your overall well-being.
3
Facial Harmony
Achieve a balanced and harmonious appearance that aligns with your individual features and cosmetic goals. Dr. Becker ensures transformative yet authentic results.
About African American Rhinoplasty
Rhinoplasty sculpts and refines the nose to create cosmetic and functional improvements.
Although it shares many common issues with other nationalities, the African American nose differs from a Middle Eastern, Caucasian, Korean, Indian, or Jewish nose. Rhinoplasty is an option for
all skin types and ethnicities
.
But the surgeon must strategically perform ethnic rhinoplasty to preserve the patient's natural beauty and cultural diversity.
African American rhinoplasty, also called a nose job, is a complex plastic surgery performed to improve breathing or enhance the nose's appearance for African American patients. The surgeon must have extensive knowledge of rhinoplasty and advanced skills to make cosmetic improvements while preserving the patient's African American nasal characteristics.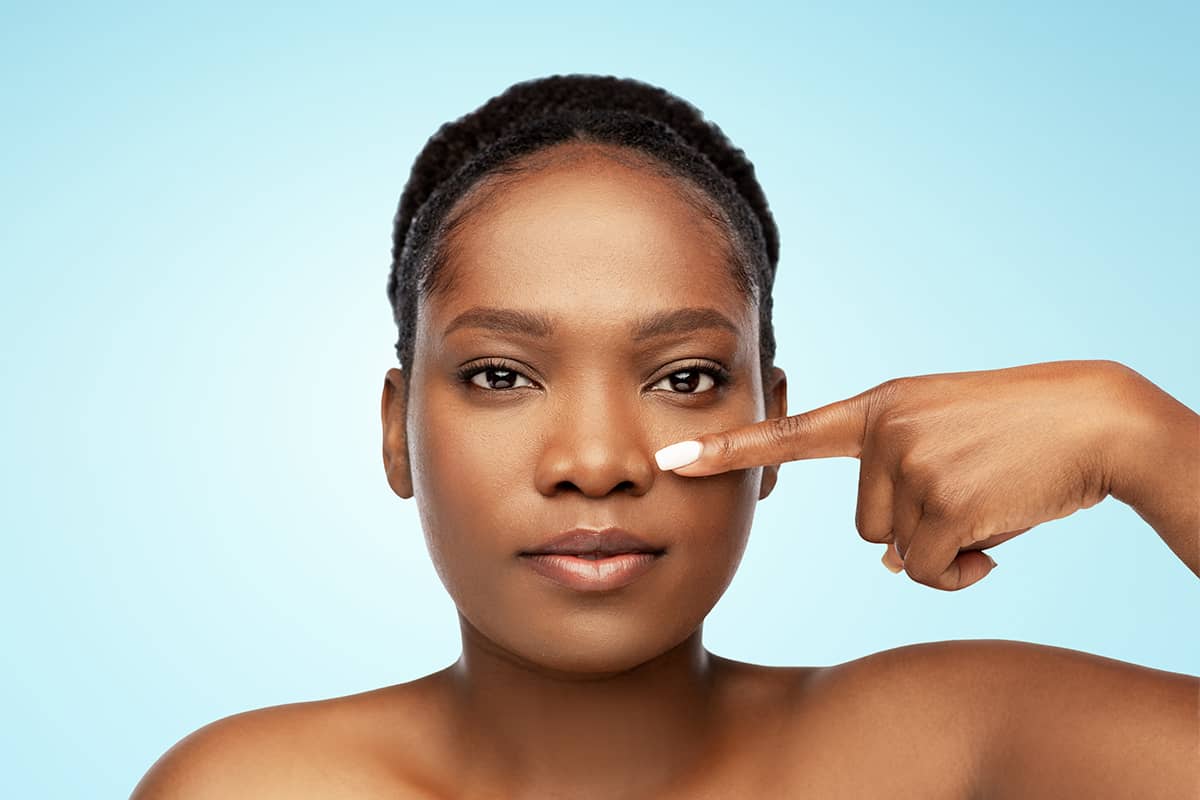 The African American nose has distinct differences, like a broader, somewhat flatter nose, thicker skin, and wide nostrils. Still, it shares common issues with some people of different races, as seen in ethnic rhinoplasty photos. Dr. Becker designs each African American rhinoplasty procedure to match the patient's goals while preserving his patient's natural beauty and the distinct nuances of the African American nose.
PATIENTS GALLERY
*All patients are unique and individual results may vary.
Candidates for African American Rhinoplasty
Ideal candidates for this specialized rhinoplasty are of African American descent. They would like to improve the size or appearance of their nose or address breathing issues while preserving their ethnicity and natural beauty.
Ideal African American rhinoplasty candidates are in good health, do not smoke, have nasal skin that is not too thick or thin, have strong cartilage, and have realistic expectations about the expected results. Dr. Becker examines and evaluates potential candidates during an African American rhinoplasty consultation in New Jersey or Philadelphia.
African American Rhinoplasty Consultation
Men and women interested in African American rhinoplasty can schedule an appointment with Dr. Becker at the Becker Rhinoplasty Center. During the consultation, the New Jersey rhinoplasty surgeon performs an examination, reviews the patient's medical history, and discusses all cosmetic and breathing issues.
Dr. Becker then creates a unique patient plan outlining his recommendations to alter the nasal structure while preserving the patient's African American features. Computerized imaging helps patients to understand the expected postsurgical results.
Dr. Becker is a pioneer in rhinoplasty, and many patients travel to have ethnic or African American rhinoplasty in New Jersey at Becker Rhinoplasty. View before and after photos.
Expert Tips for Prepping for an African American Nose Job
The Becker Rhinoplasty Center has two convenient locations with offices in Voorhees, New Jersey, and Philadelphia, PA. Dr. Becker accommodates patients who live in the States and internationally. The friendly staff is available to help with lodging and travel recommendations.
Out-of-Town Patients
Out-of-town patients should plan to be in the area for one to two weeks after the surgery to heal and attend follow-up appointments. Traveling patients must solidify their flight information and hotel arrangements in advance.
Dr. Becker provides a complete list of products to avoid and preparation instructions during the consultation. Here is a brief list:
Prepare a ride to and from the facility on the day of surgery.
Prepare the home for a comfortable recovery with extra pillows for head elevation and easy accessibility to healthy food and beverages.
Have prescription medication filled and ready.
Purchase and freeze doctor-approved cold packs and compresses.
Plan to wear button-down shirts and avoid pullover shirts.
The doctor may recommend anti-microbial soap on the day of surgery.
Smokers must stop using nicotine at least two weeks before the surgery.
Schedule at least one week off school and work.
Avoid herbal supplements and medications that thin the blood—like NSAIDs, aspirin, Motrin, and vitamin E—for two weeks before the surgery.
How an African American Rhinoplasty is Performed
Dr. Becker explains the surgery during the consultation. Each African American rhinoplasty procedure is customized to match the patient's needs and goals. Variations in the nasal structure are common, and the doctor considers the patient's nasal bones, skin, and goals when planning and performing African American rhinoplasty.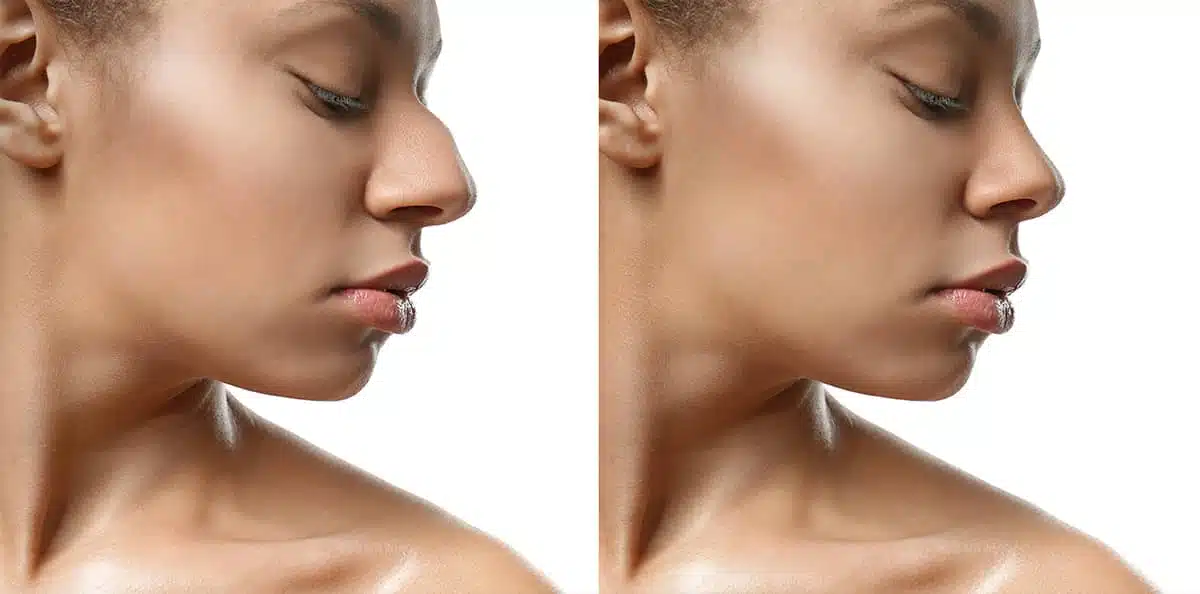 The procedure begins with general anesthesia, and it is either an open or closed rhinoplasty. Most African American rhinoplasty procedures are performed as open surgery, which uses an external incision to allow access to the inside of the nose. In cases of minor alterations, the doctor may perform a closed procedure using only internal incisions.
During open rhinoplasty, the doctor creates a small external incision at the base of the nose between the nostrils. The doctor lifts the nasal skin and exposes the underlying tissue, cartilage, and bony structure to improve the nasal shape. He may remove tissue from the nostrils, pull them inward, and suture them to reduce the width. Grafts or nasal implant material, which refine or elevate the nose, are used when needed.
During African American rhinoplasty, Dr. Becker creates natural-looking changes that improve the nose shape and correct symmetry and facial harmony. The highly complex procedure requires meticulous attention to artistic detail and usually takes three to four hours to complete.
African American Rhinoplasty Recovery Process
When sitting or resting, patients must keep their heads at a 45° angle. Avoid bending down to reduce swelling and encourage healing. Cool compresses may reduce swelling. Dr. Becker examines the results and removes the external splint or cast at a follow-up appointment in one week. Most patients experience a significant reduction in bruising and swelling within two weeks.
African American rhinoplasty results are usually seen within three months as most swelling and bruising disappear. However, the tissue on the nose may experience swelling that continues to dissipate over the first year. Individuals who desire a revision rhinoplasty to make minor adjustments must wait six months to one year.
Potential Risks and Side Effects of African American Rhinoplasty
African American rhinoplasty is a safe cosmetic procedure, and complications are rare. However, there is a risk of infection, scarring, bleeding, or side effects from anesthesia after any surgery. During the recovery period, patients may experience bruising around their eyes and nose, swelling, and a stuffy nose. During the consultation, Dr. Becker explains these side effects and the healing process.
Frequently Asked Questions About African American Rhinoplasty