When rhinoplasty, also called nose surgery or a nose job, was first developed, it involved small changes to provide minor breathing or cosmetic improvements without much flexibility. The original one-size-fits-all concept has grown into beautiful, aesthetically pleasing surgery customized to preserve each patient's ethnic background and natural features while making cosmetic or breathing improvements.
Ethnic rhinoplasty is a variation of traditional rhinoplasty surgery. Traditional rhinoplasty surgery corrects a crooked nose, changes the tip, or removes a hump. Ethnic rhinoplasty may have the same goals, but each technique artistically matches the needs of patients with a non-Caucasian background. Ethnic rhinoplasty allows patients to maintain their cultural beauty while correcting their noses.
To accomplish ethnic rhinoplasty changes while preserving the patient's cultural beauty, the facial plastic surgeon must deeply understand nasal anatomy and have advanced experience treating men and women of diverse cultural backgrounds. There are four different types of ethnic rhinoplasty.
Four Types of Ethnic Nose Jobs
An ethnic nose job is customized to match the patient's natural facial features and to provide a natural-looking nose job that doesn't appear surgically corrected. There are significant structural differences between a Caucasian and a non-Caucasian nose. Asian, African-American, and Middle Eastern individuals usually have thicker skin, wider nostrils, and a lower nasal bridge than Caucasians.
Ethnic rhinoplasty preserves each patient's beautiful heritage. The rhinoplasty surgeon must use specialized surgical techniques to protect the patient's natural beauty while making strategic changes. The different types of ethnic rhinoplasty typically include African-American, Hispanic or Latino, Asian, and Middle Eastern.
1. Asian Rhinoplasty
Asian nose surgery is typically performed to create a more defined bridge. Patients of Asian descent tend to have shorter nasal bones, which causes the nose to appear flat with flared nostrils. Cartilage grafts may be used from another area on the body to create a longer bridge and a more enhanced tip.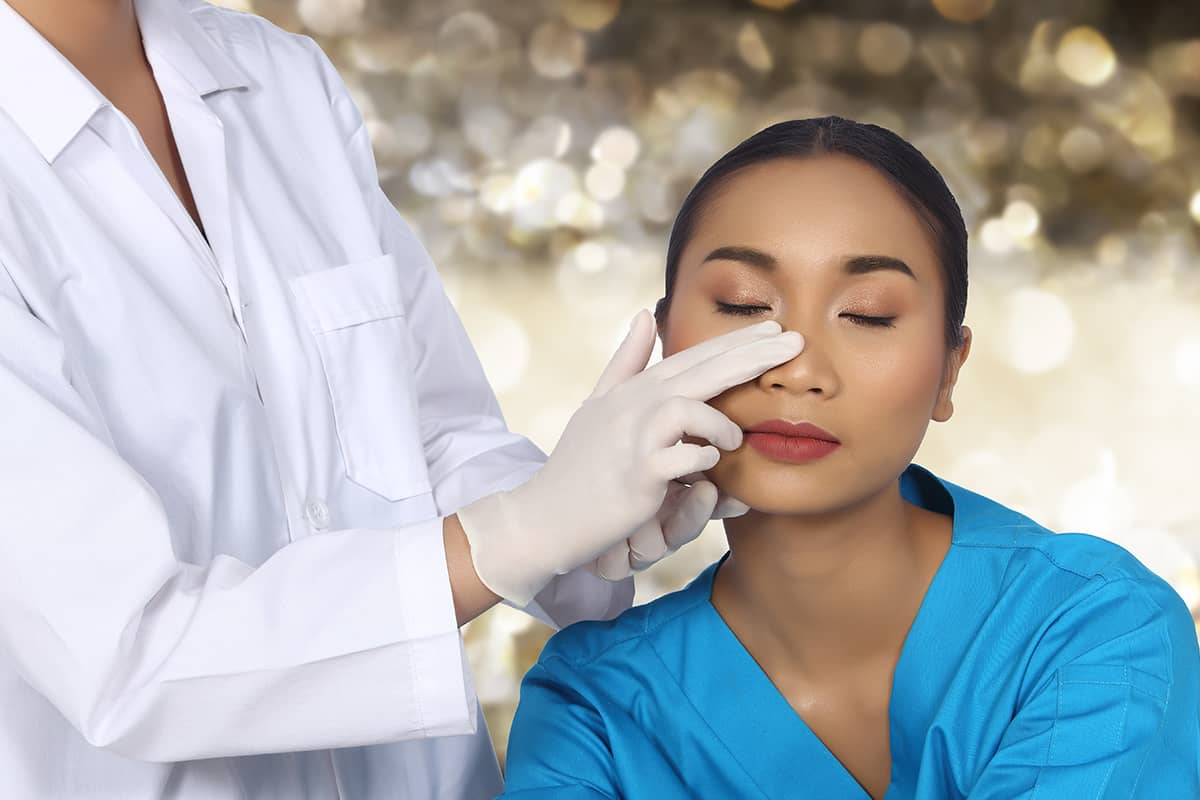 2. Hispanic or Latino Rhinoplasty
Hispanic or Latino rhinoplasty is a customized nasal surgery for individuals of different Spanish or Latino backgrounds, like Central America, South America, Mexico, and Spain. There are varying distinctions between various Hispanic ethnicities' nasal and facial characteristics. Latino and Hispanic patients may have thicker skin (which would require a rhinoplasty for thick skin), a bulbous nasal tip, wide nostrils, or a broad bridge. To ensure optimum results, the rhinoplasty surgeon must consider the patient's facial anatomy and nasal structure.
3. African-American Rhinoplasty
African American nose job is a specialized procedure that corrects breathing issues and common cosmetic concerns, such as a low bridge or wide tip. Many African American rhinoplasty patients request thinner nostrils in a more refined bridge while preserving their natural beauty and facial harmony. African-American rhinoplasty protects the patient's inherent facial characteristics while creating the desired shape and size to match the patient's goals.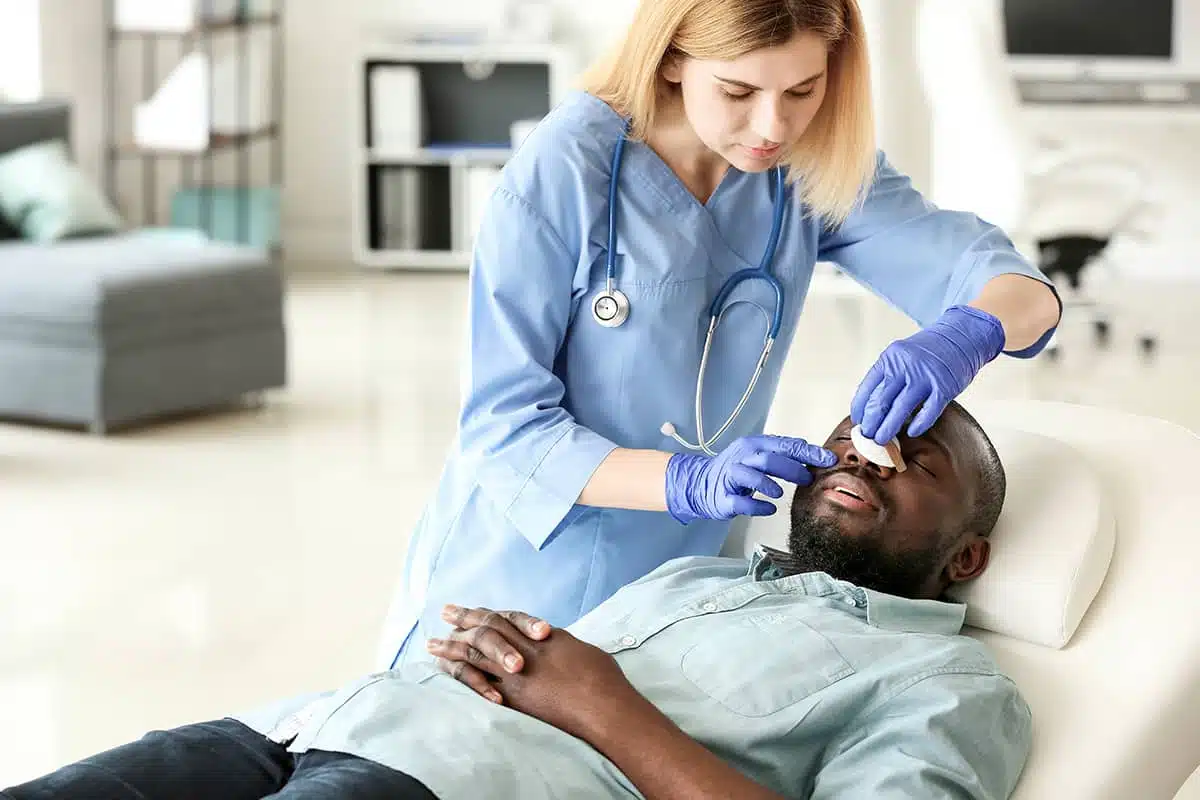 4. Middle Eastern Rhinoplasty
Middle Eastern rhinoplasty is typically performed on patients of Arab, Persian, Indian, or other middle eastern descent. Middle Eastern patients usually have a large or drooping tip with a significant bump on the bridge. The middle eastern rhinoplasty procedure helps to reduce the hump, reshape the nose, smooth the bridge, and create a more defined tip while preserving the patient's cultural identity.
Benefits of Ethnic Rhinoplasty
Ethnic rhinoplasty patients have unique nasal features that require a skilled ethnic rhinoplasty surgeon. Some of the benefits of ethnic rhinoplasty include the following:
Correcting structural abnormalities and breathing issues
Improving sleep problems caused by a nasal obstruction
Creating a more defined and attractive nose
Improving symmetry with the other facial features
Reshaping the nostrils
Improving nostril width
Increasing or decreasing the nasal length
Contouring the nasal bridge
Smoothing humps
Maintaining nasal characteristics that reflect the patient's heritage
Wide Nose Ethnic Rhinoplasty
The outer edges of the nostrils are composed of soft, fatty tissue, and the nostril size, thickness, and flaring are directly related to the amount and quality of this tissue. Wide nose ethnic rhinoplasty is typical in African-American, Asian, and Hispanic rhinoplasty.
Imagine an invisible line from the inside corner of each eye leading straight down to the chin; patients may request a reduction in the size of their nostrils if they extend beyond these lines when resting or flared. A nasal reduction is performed during ethnic rhinoplasty to improve the dimensions and shape of the nostrils while preserving the patient's ethnic heritage.
Choosing an Ethnic Nose Job Surgeon
Each ethnicity has unique characteristics, and the surgeon must have a complete mastery of cosmetic and reconstructive nasal surgery, along with ethnic rhinoplasty, to ensure exceptional results. Rhinoplasty is one of the most challenging cosmetic surgeries, and ethnic rhinoplasty increases the challenge.
Here are a few key things to look for in an ethnic rhinoplasty surgeon:
A board-certified plastic surgeon with advanced ethnic rhinoplasty skills
Confirmed extensive experience in ethnic nasal surgery
Choose a compassionate surgeon who listens to your needs
Check before and after photos showing previous ethnic rhinoplasty outcomes
Experience with wide-nose ethnic nose job
Choose a surgeon with advanced qualifications and hospital affiliations
Choose a surgeon who specializes in primary and revision rhinoplasty
Dr. Daniel G. Becker is the founder and medical director of the Becker ENT and Rhinoplasty Center in New Jersey and Philadelphia. He is also the clinical director of facial plastic surgery and the Department of Head and Neck Surgery at the University of Pennsylvania.
Dr. Becker is recognized internationally as a leading rhinoplasty specialist and invites traveling patients to visit his center for primary or revision rhinoplasty. He shares a rhinoplasty guide, answers to common FAQs, and more on the Becker Rhinoplasty Center website.
Ethnic Rhinoplasty Surgery
Ethnic nose job surgery is performed on patients with diverse backgrounds and needs. Each surgery is customized to match the patient's unique needs, typically including small incisions inside the nostrils and under the nose.
The surgeon typically reshapes the underlying structure to accomplish the patient's objectives, which are discussed during the initial consultation. During the final stages of surgery, the surgeon will carefully re-drape the skin over the nose and close the incisions. The surgery typically takes one to three hours.
The distinct differences between ethnicities are of great importance when performing ethnic rhinoplasty. There are variations in shape and projection. For example, the African-American nose typically has more fatty tissue and less nasal projection with flared nostrils. The specialist will make adjustments to the ethnic noses that match the patient's goals.
Schedule an Ethnic Rhinoplasty Consultation
This type of nose surgery is a complex surgery that requires advanced surgical skills, an artistic eye, and attention to detail. During the consultation, the surgeon will perform an examination and discuss your goals. Some of the characteristics addressed during ethnic rhinoplasty typically include the removal of a hump, raising a flat bridge, narrowing the nostrils, raising a drooping tip, and strengthening tip cartilage.
Clients worldwide travel to see Dr. Becker for ethnic rhinoplasty surgery in New Jersey and Philadelphia. He is an expert primary and revision rhinoplasty surgeon who can answer all of your questions and plan a successful ethnic rhinoplasty procedure maintaining your beautiful natural heritage while making cosmetic changes to the size and shape of your nose. Contact the Becker Rhinoplasty Center for an ethnic rhinoplasty consultation today.