A hooked nose is characterized by a prominent bend or curve in the bridge. This creates a pronounced hook-like appearance. While it is a common nose shape, some individuals might seek to alter its appearance with hooked nose surgery.
What Defines a Hooked Nose?
A hooked nose is defined by a hump or bend in the nasal bridge, which gives the nose a hook-like or bird-like appearance. When viewed from the side, this type of nose resembles a bird's beak, giving it the name "aquiline nose," derived from the Latin word aquilinus (eagle-like). The degree of the hook can vary from person to person and is often a genetic trait.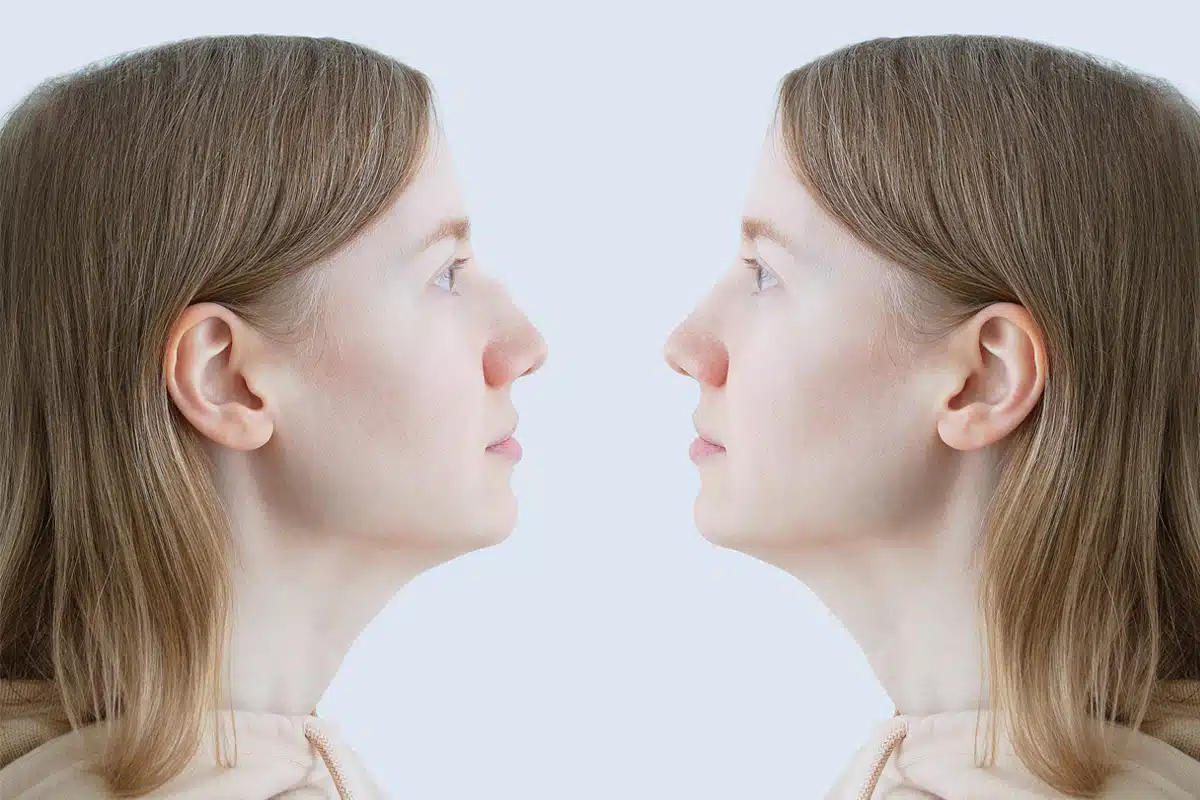 Causes of a Hooked Nose
The primary cause of a hooked nose is genetics, as it is a facial feature that is inherited and prevalent in certain ethnicities. However, a history of injury – accidents, sports injuries, or any other trauma that has healed poorly can cause a hooked nose to develop.
It can also be part of the aging process where the nasal tip may droop and pull downward from a loss of elasticity and appear hooked.
In some cases, a hooked nose may be the result of a previous nose job or rhinoplasty procedure that did not yield the desired results.
Benefits of Surgery for a Hooked Nose
Surgery for a hooked nose, a type of rhinoplasty, can have several benefits. From an aesthetic perspective, changing the aquiline nose shape can enhance facial harmony by balancing facial features. It also makes a dramatic change of appearance in profile, which is often the patient's biggest concern. The results of this cosmetic surgery procedure can produce a beautiful, well-proportioned nose that significantly boosts the patient's self-esteem and confidence.
From a functional standpoint, rhinoplasty surgery can improve breathing issues caused by a deviated septum or other structural problems within the nose. Rhinoplasty can be combined with septoplasty, a surgery that straightens the wall of cartilage, dividing the nasal passages to enhance a patient's breathing.
Exploring Your Options: Approaches for Hooked Noses
Rhinoplasty
Rhinoplasty is a complex procedure that reshapes the nose. It can be customized to make several changes, such as straightening a crooked nose, smoothing a nasal hump, refining the nasal tip, and correcting a deviated septum for better breathing. The surgery takes about 1.5 to 3 hours and is usually an outpatient procedure.
There are two main types of rhinoplasty: open and closed. Open rhinoplasty is used for severe nose reshaping, while closed rhinoplasty is used for minor procedures.
All rhinoplasty requires a skilled plastic surgeon to achieve a natural, functional outcome, as a small change to one part of the nose structure can affect the rest of the nose. New Jersey rhinoplasty is one of the most common forms of cosmetic surgery and is also used to repair noses damaged by cancer, birth defects, or accidents.
Septoplasty
Septoplasty is also a common procedure that is needed to correct a deviated septum. With this condition, the nasal septum, the thin wall of cartilage and bone that separates the nostrils, is significantly displaced to one side. The shift results in the constriction of one nasal air passage, making it smaller than the other.
A deviated septum can lead to various issues, including breathing difficulties, sinus infections, nasal congestion, nosebleeds, and in some cases, the appearance of a hooked nose.
By straightening the septum, septoplasty can improve both the function and appearance of the nose. During the procedure, the surgeon may trim, reposition, or replace cartilage or bone to center the septum and create two nasal passages that are the same size.
Septoplasty is usually performed as an outpatient procedure, and the recovery period may involve swelling for two to three days, with full recovery taking up to three months. Most people find that septoplasty improves the symptoms that were caused by the deviated septum.
Non-Surgical Approach
For those who are not ready for surgery, there is an alternative: non-surgical nose reshaping. "Liquid rhinoplasty" is a treatment that uses injectable fillers to temporarily alter the shape of the nose. This can be a viable option for those who wish to disguise nose shape or size. However, the results are temporary and not as dramatic as surgical rhinoplasty New Jersey.
Recovery Process and Aftercare Post-Surgery
Post-surgery recovery is an important part of the journey to a straight nose. Immediately after surgery, patients may experience swelling, bruising, and discomfort. Pain can be managed with prescribed medications and cold compresses can help reduce swelling.
Breathing through the nose may be difficult during the initial recovery due to internal nasal swelling. It is recommended to sleep with the head elevated 45° or more to minimize swelling.
Patients are usually able to return to work or school within one to two weeks, but strenuous activities, contact sports, and any activity that risks accidental contact with the nose should be avoided for six weeks or until the nose is fully healed.
Following post-operative instructions is crucial for a smooth recovery and optimal results. This includes avoiding sun exposure, which can increase swelling and slow down the healing process, as well as refraining from wearing glasses directly on the nose for up to six weeks post-surgery.
Potential Risks from Surgery for Hooked Noses
Just like any surgical procedure, hooked nose surgery comes with its own set of potential risks. These may include common surgical risks such as infection, bleeding, and visible scarring. Rare complications include reactions to anesthesia, difficulty breathing through the nose, asymmetry of the nose, and dissatisfaction with the aesthetic outcome.
Discussing these with a board-certified plastic surgeon during a consultation can help patients make well-informed decisions about their care.
Long-Term Outcomes and Success Rates
Rhinoplasty for a hooked nose generally has a high success rate, with many patients reporting improved self-confidence and satisfaction with their facial appearance. It has also proven successful in improving functional issues, such as breathing difficulties.
The final results of rhinoplasty may not be apparent until up to a year after the procedure, once all swelling has subsided. Patience is key during the healing process and it's important to remember that every patient's healing timeline is unique.
Talk with a Rhinoplasty Expert
When considering surgery for a hooked nose, it is best to consult with a facial plastic surgeon. An experienced surgeon can provide a comprehensive consultation, discuss your goals and concerns, and develop a personalized surgical plan.
Call for an appointment with Dr. Daniel Becker, a double board-certified facial plastic surgeon and rhinoplasty expert. Dr. Becker can provide an in-depth understanding of the procedure, recovery process, potential risks, patient education, and expected outcomes. He can also show before and after photos of previous patients, giving a realistic expectation of the results.
To schedule your rhinoplasty consultation with Dr. Daniel G. Becker, please contact us at our Central New Jersey location at 609-436-5740, or call our Southern New Jersey location at 856-772-1617.