Septoplasty and rhinoplasty are two common surgical procedures that are performed on the nose. While these two procedures may sound similar, they are quite different. Understanding the unique nuances between septoplasty and rhinoplasty can help you understand which procedure may be better for you.
What is Septoplasty?
A septoplasty is a form of surgery that is performed to correct a deviated septum. The septum is the cartilage and bone that separates the two nostrils in the nose.
A deviated septum occurs when the septum is off-center, making it harder for air to flow through the nostrils. This can lead to breathing problems, including noisy snoring, sleep apnea, and chronic congestion. Septoplasty is done to correct this issue and improve nasal airflow.
During septoplasty procedures, the surgeon makes an incision in the septum and removes or repositions the affected tissue to straighten the septum. The procedure is usually done under local or general anesthesia, and most patients can go home the same day.
Recovery time for a septoplasty is usually one to two weeks, during which time you may experience some swelling and discomfort. Your surgeon gives you detailed instructions on how to care for yourself after the surgery. These could include taking pain medication, using ice packs, keeping your head elevated, and avoiding strenuous activities.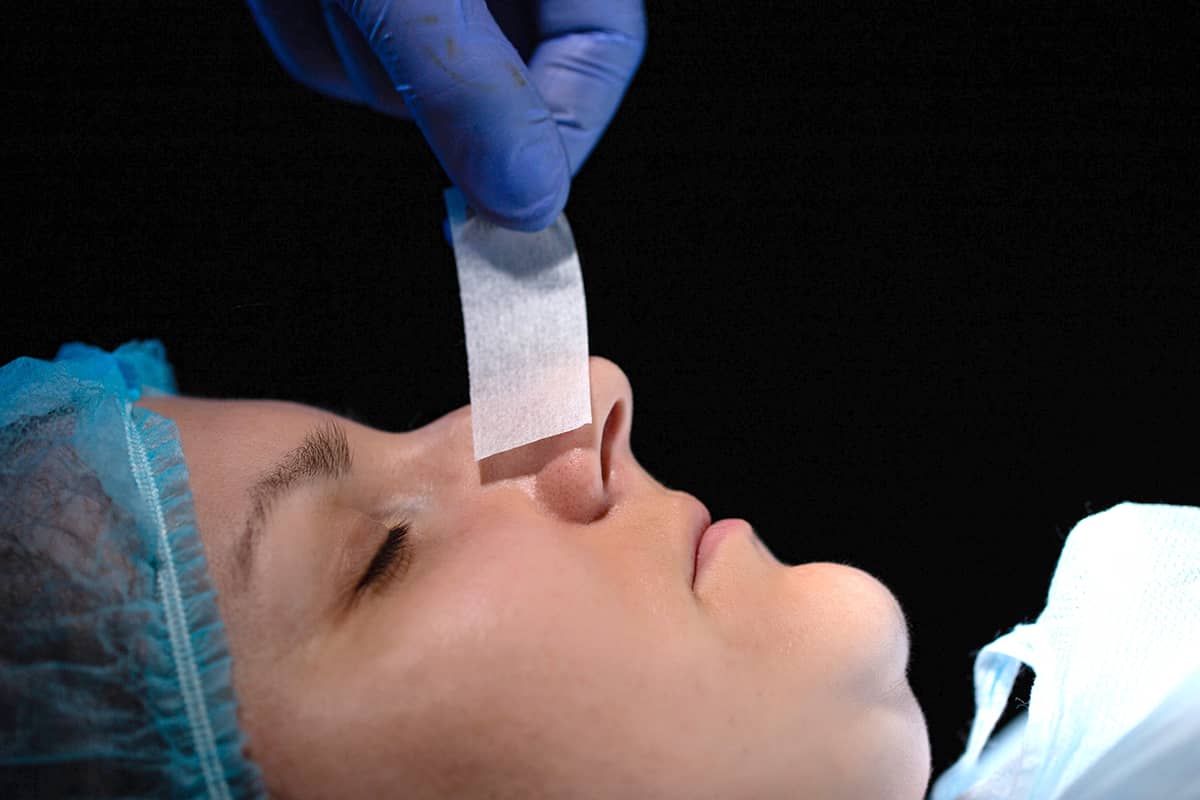 The Benefits of Septoplasty
Improved breathing: One of the main benefits of septoplasty is improved nasal breathing. The procedure can straighten the septum and open up the nasal passages, making it easier to breathe through the nose.
Reduced snoring: Septoplasty can also reduce or eliminate snoring by correcting the airflow through the nose.
Reduced sinus infections: A deviated septum can cause nasal blockages in the sinuses, leading to frequent sinus infections. Septoplasty can help reduce these infections by improving the drainage of the sinuses.
Improved sleep quality: Better nasal breathing and reduced excessive snoring can improve the quality of sleep, leading to better overall health and well-being.
Improved sense of smell: A deviated septum can affect the sense of smell, but septoplasty can help improve it by opening up the nasal passages.
Improved physical activity: Improvement of breathing can also lead to improved physical activity and performance, particularly in athletes and fitness enthusiasts.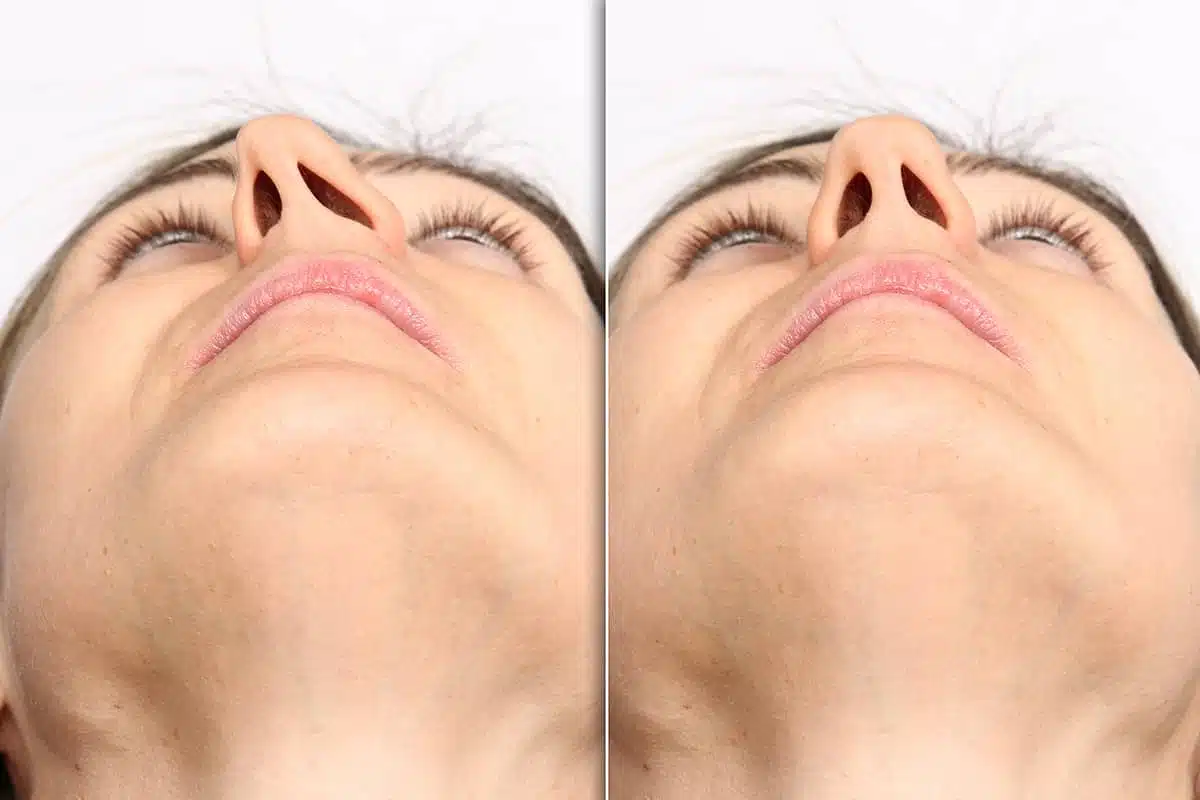 What is Rhinoplasty?
Rhinoplasty is a cosmetic procedure that is done to improve the appearance of the nose. This can involve changing the nasal size, shape, or angle to make it more aesthetically pleasing. Some common reasons people choose to have rhinoplasty include a bump on the nasal bridge, an asymmetrical nose, or a nose that is too large or too small.
During a nose job, the cosmetic surgeon makes incisions inside the nostrils or in the skin between the nostrils to access the underlying bone and cartilage. They then reshape the nasal bone and cartilage to achieve the desired appearance. The procedure can be done under local or general anesthesia.
The recovery time after a rhinoplasty procedure can vary depending on the extent of the surgery. Most rhinoplasty patients can expect to have some minor swelling and bruising for several weeks after the procedure. As with septoplasty, your surgeon advises you on how to care for yourself in the weeks following the procedure.
The Benefits of Rhinoplasty
Improved appearance: Rhinoplasty can change the shape and size of the nose, which can improve facial balance and overall appearance.
Increased self-confidence: A more aesthetically pleasing nose can help improve self-esteem and self-confidence.
Improved breathing: Rhinoplasty can correct abnormalities in the nasal structure, improving breathing and alleviating snoring.
Correcting a birth defect: Rhinoplasty can correct birth defects such as a cleft palate or a deviated septum.
Correcting injuries: Rhinoplasty can correct injuries to the nose, such as a broken nose, and restore its appearance and function.
Reshaping the nose after previous surgery: Rhinoplasty can correct or improve the results of previous nose surgery.
Septoplasty vs Rhinoplasty: Which Is Better?
So, which procedure is better? The answer to this question depends on what you are hoping to achieve. If you are experiencing breathing issues due to a deviated nasal septum, septoplasty is likely the better option for you. This procedure can help to improve your quality of life by making it easier to breathe through your nose.
On the other hand, if you are unhappy with the appearance of your nose and would like to make cosmetic improvements, rhinoplasty may be the better option. This procedure can help to improve your self-confidence and overall satisfaction with your appearance.
It is important to note, however, that both procedures may be necessary in some cases. For example, if you are experiencing breathing problems due to a deviated septum and are also unhappy with the appearance of your nose, your surgeon may recommend a combination of septoplasty and rhinoplasty.
Risks and Complications
Septoplasty and rhinoplasty are two different surgical procedures that are often performed together to correct structural or functional issues in the nose. While both procedures are generally safe and effective, there are some risks and complications associated with them.
The risks and complications of septoplasty
Bleeding: During and after the surgery, some bleeding is common. In rare cases, it can be severe and require further medical intervention.
Infection: Infection is a risk associated with any surgical procedure. Antibiotics are often prescribed to reduce the risk of infection.
Changes in the shape of the nose: Septoplasty may cause changes in the appearance of the nose.
Adverse reaction to anesthesia: Anesthesia is used during the procedure, and there is a risk of allergic reaction or other complications.
The risks and complications of rhinoplasty
Swelling and bruising: Swelling and bruising are common after rhinoplasty and can take several weeks to subside.
Infection: Infection is a risk associated with any surgical procedure.
Numbness: Numbness around the nose and upper lip is common after rhinoplasty.
Breathing difficulties: In some cases, rhinoplasty can cause breathing difficulties.
It is important to discuss the risks and complications associated with septoplasty and rhinoplasty with a qualified rhinoplasty surgeon before undergoing these procedures.
About Becker Rhinoplasty Center
The Becker Rhinoplasty Center is located in New Jersey and is headed by Dr. Daniel G. Becker, who is a board-certified facial plastic surgeon with over 25 years of experience. Dr. Becker has received several awards and recognitions for his work in rhinoplasty and facial plastic surgery. He is also a published author and a frequent speaker at national and international conferences.
The Becker Rhinoplasty Center specializes in rhinoplasty procedures, both primary and revision cases, and they use the most advanced techniques and technologies to achieve natural-looking rhinoplasty results. The center also offers a comprehensive consultation process, where Dr. Becker works closely with you to understand your cosmetic nasal concerns and goals and develop a personalized treatment plan.
If you are considering this cosmetic surgery and are not sure whether septoplasty vs rhinoplasty is right for you, Dr. Becker can assess your unique needs and cosmetic goals and advise you on the best course of action. Contact Becker Rhinoplasty Center today to book your personal consultation and learn more about these procedures.