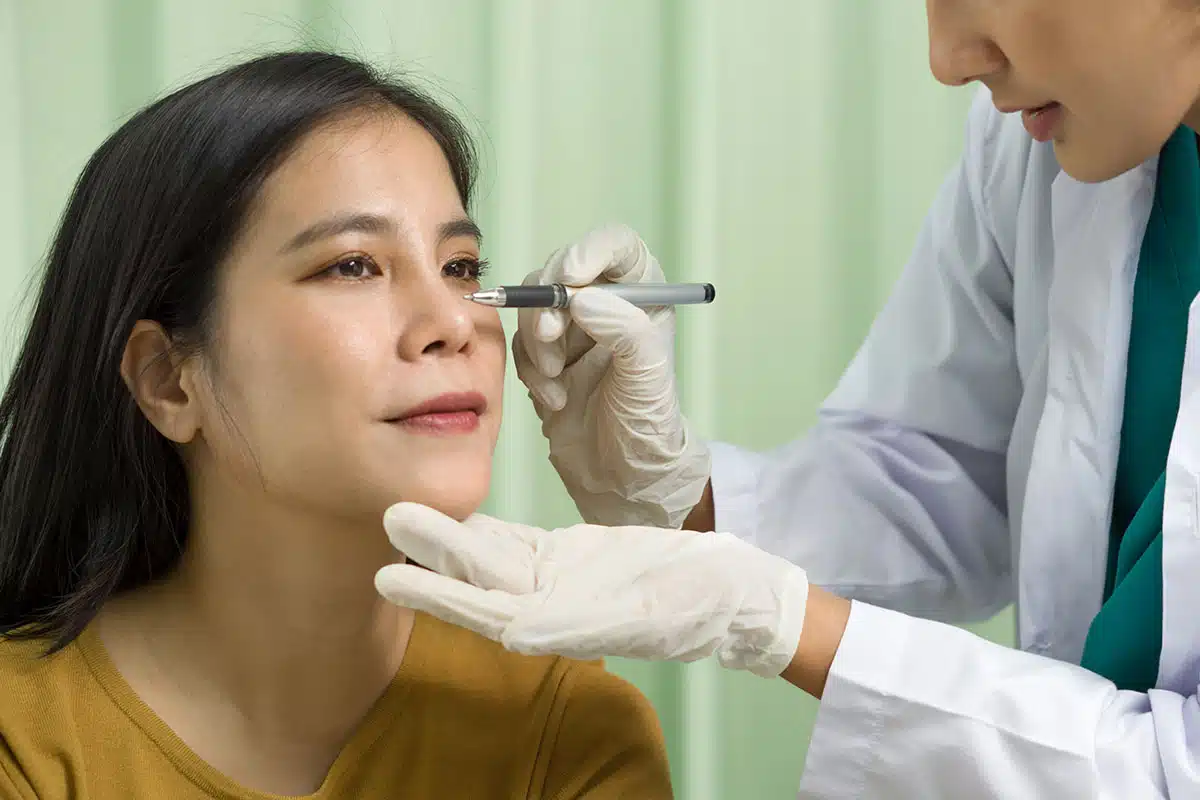 Liquid rhinoplasty, also known as non-surgical rhinoplasty, is a popular alternative to traditional surgical rhinoplasty. This advanced, non-invasive dermal filler treatment is designed to reshape and improve the contours of the nose without the need for major surgery. It's a quick procedure, typically taking only around 15 to 30 minutes, and has minimal recovery time, allowing patients to return to their everyday activities soon after. While the results are immediate, they are not permanent.
How Long Does Liquid Rhinoplasty Last?
On average, the results of this advanced, non-invasive dermal filler treatment tend to last between 9 months to 18 months. This duration, however, is not set in stone and can vary significantly from one individual to another.
The reason for this variance is that liquid rhinoplasty, often considered an anti-aging treatment among a range of facial rejuvenation treatments, uses temporary fillers, often hyaluronic acid-based, to achieve the desired reshaping and contouring of the nose.
Over a while, these fillers are naturally absorbed by the body, causing the effects of the procedure to gradually diminish.
Factors That Can Impact the Longevity of Liquid Rhinoplasty
Metabolism, Skin, and Individual Response to Fillers
One of the key factors that can impact the duration of the results from a liquid rhinoplasty is the patient's metabolism. A person with a faster metabolism might metabolize the hyaluronic acid-based filler more quickly, leading to a shorter duration of results. This is a common question that patients have during the consultation time, and it's important to understand that everyone's body responds differently to treatments.
The patient's skin type and individual response to fillers can also play a significant role in the longevity of the results. For instance, skin firmness and skin cell receptors can affect how the filler settles and is absorbed.
Similarly, individual patient reactions to the filler could also affect the longevity of the results. This is why detailed treatment planning is crucial to ensure the ideal treatment is chosen for each patient.
Type and Quality of Fillers Used
The type and quality of fillers used in a liquid rhinoplasty, or non-surgical nose treatment, can significantly impact the longevity of the results. This advanced, non-invasive dermal filler treatment often employs hyaluronic acid-based fillers, a natural substance that is commonly used in anti-aging and facial rejuvenation treatments.
The most popular hyaluronic acid-based fillers are known for their ability to provide a youthful appearance and improve skin firmness. However, the duration of the results can vary depending on the specific filler used.
In addition to the type of filler, the quality of the filler for profile balancing is also crucial. Fillers of superior quality are less likely to cause minor discomfort or result in additional swelling post-procedure. They also tend to metabolize at a slower rate, extending the period before maintenance injections are needed.
Skill and Experience of the Injector
The skill and experience of the injector performing the non-surgical nose treatment are paramount in achieving the desired results. A board-certified facial plastic surgeon or a reconstructive surgeon, particularly one with a focus on facial rejuvenation treatments, is more likely to administer the advanced, non-invasive dermal filler treatment in a way that maximizes its longevity. These professionals have a deep understanding of facial features and can create a balanced, natural-looking facial appearance.
In addition, an experienced provider can guide patients through detailed treatment planning, helping them understand the benefits of treatment and set realistic facial rejuvenation treatment goals. They can also advise on the best non-surgical rhinoplasty treatment options, including the use of the most popular hyaluronic acid-based fillers or alternative fillers for treatment.
Proper Aftercare and Maintenance After Recovery Time
The importance of proper aftercare and maintenance following a liquid rhinoplasty cannot be overstated. This non-surgical nose treatment, while less invasive than traditional rhinoplasty surgery, still requires detailed treatment planning and a custom treatment plan to ensure the best possible results.
After the quick procedure, which typically involves minimal pain and discomfort, patients can expect a recovery time that is significantly shorter than that of a surgical treatment. However, the recovery period is not the end of the treatment journey.
A personalized treatment protocol is essential to maintain the results of this advanced, non-invasive dermal filler treatment. This includes avoiding strenuous activity and pressure on the injected area, typically 1 to 2 weeks after the procedure. This allows the hyaluronic acid-based filler to settle properly and reduces the risk of contour irregularities.
Potential Risks and Side Effects of The Non-Surgical Nose Job
As with any facial rejuvenation treatment, the non-surgical nose job carries potential risks and side effects. Immediately following the procedure, patients may experience minor swelling, tenderness, and bleeding at the injection site. These are common side effects of any injectable filler treatment and usually subside within a few days.
Alternatives to the Hyaluronic Acid Rhinoplasty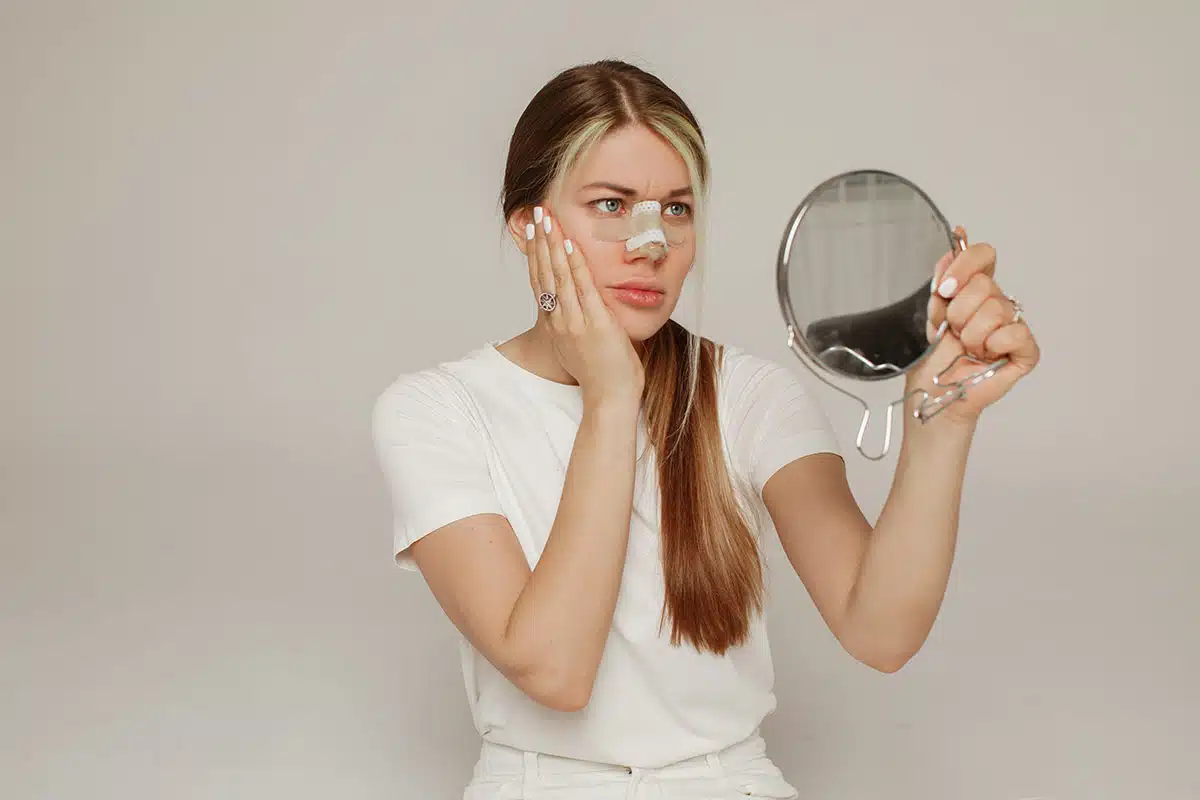 Permanent Non-Surgical Rhinoplasty
One such alternative is the use of Silikon-1000, an injectable filler used in microdroplet silikon-1000 treatments. This is a minute treatment that can be tailored to the individual patient's needs through a personalized treatment protocol. Silikon-1000 nasal treatments offer a more permanent solution compared to hyaluronic acid-based treatments, providing longer-lasting results that can help maintain a youthful appearance.
Traditional Rhinoplasty
For those seeking a more drastic change, traditional rhinoplasty surgery is another alternative. This plastic surgery procedure can offer a permanent solution to issues such as a crooked nasal appearance or the appearance of bumps on the nasal bridge.
However, it's important to note that this option involves a more lengthy recovery time compared to non-surgical treatments. While this procedure involves more invasive surgery and a longer recovery time, it offers permanent results and can also correct structural changes and breathing issues.
Surgical rhinoplasty also carries more risks, including bleeding, infection, and complications from anesthesia.
Choosing The Best Rhinoplasty Surgeon for Your Treatment
When selecting the surgeon for your rhinoplasty procedure, the ideal surgeon should be a board-certified facial plastic surgeon with experience in both non-surgical and surgical treatments.
The Becker Rhinoplasty Center in New Jersey is helmed by Dr. Daniel G. Becker, a board-certified facial plastic surgeon who provides extensive expertise in rhinoplasty and revision procedures. The center provides various rhinoplasty options to address issues, including droopy noses, bulbous tips, and fractures.
Patients praise Dr. Becker for his caring approach and excellent outcomes, reflecting his philosophy of prioritizing patient satisfaction and natural results. If you want to learn more about a nose job, Dr. Becker provides rhinoplasty education for his patients, showing his passion and care for rhinoplasty.
Contact us to schedule your liquid rhinoplasty consultation today.