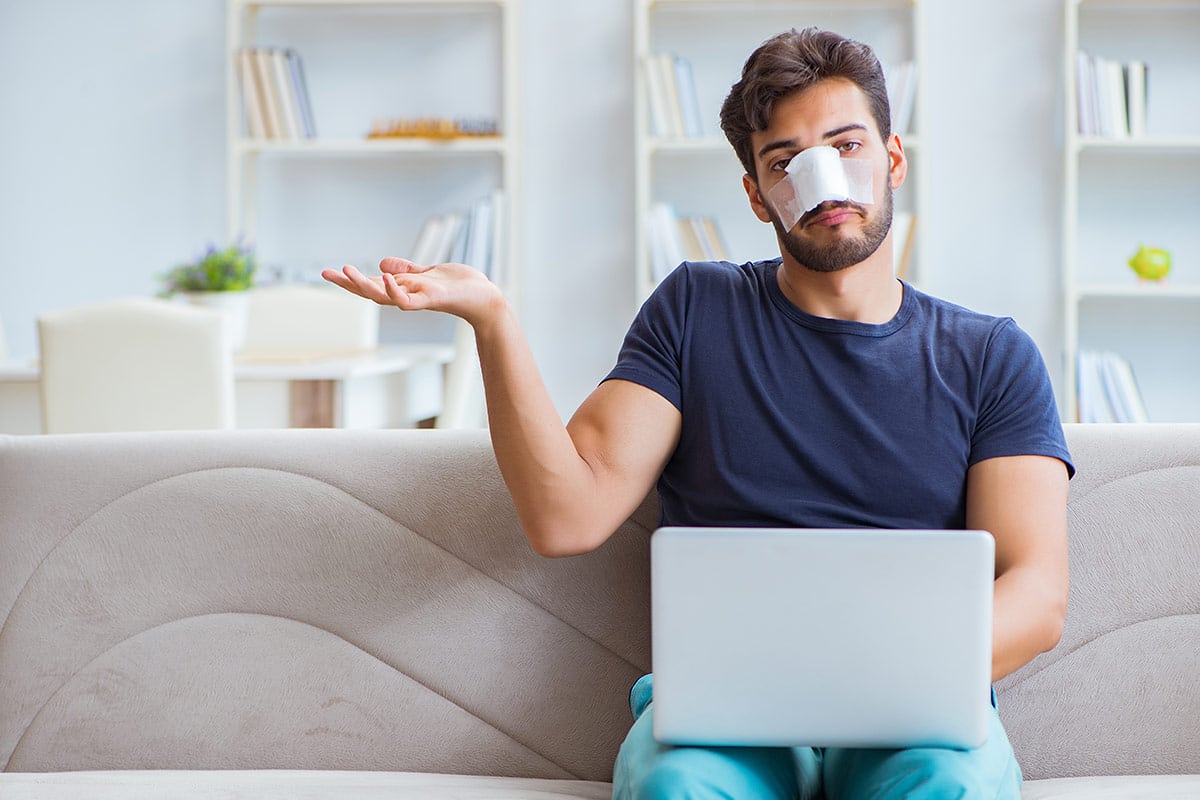 Revision rhinoplasty, a secondary procedure, is a complex surgery performed by a board-certified plastic surgeon to rectify issues from previous rhinoplasty. This challenging facial surgery procedure involves conducting surgery on the intricate nasal structure and scar tissue.
Since the degree of scar tissue varies among patients, revision surgery is more complex than the initial surgery. This is one reason why it is always very important to choose an experienced revision rhinoplasty surgeon who is proficient in advanced techniques.
The full results, which include a balanced and natural-looking facial appearance, are typically visible after a year or two. This is due to the body's healing time and the time for post-surgery swelling to subside.
Understanding Revision Rhinoplasty Surgery
This challenging procedure aims to correct issues from the initial nose surgery, ranging from functional problems like breathing difficulties due to congenital nasal defects or scar tissue, to cosmetic concerns such as a bulbous appearance.
The complexity lies in the delicate nasal structure, including the nasal bridge, bones, and fragile passages, and the presence of scar tissue from the previous surgery.
Advanced techniques and extensive cartilage grafting may be required, especially when there's insufficient cartilage or excessive scar tissue.
The Revision Rhinoplasty Healing Process
The healing process following a revision rhinoplasty surgery is a deliberate journey that demands patience and understanding from the patient.
The recovery period generally covers one to two weeks, during which individuals should plan for a period of absence from work lasting seven to ten days following their surgical procedure so it is advisable to book flights considering this.
Immediate Aftercare
The immediate days after surgery involve managing swelling, pressure, and discomfort. These are common concerns but gradually improve over time.
Swelling and bruising often occur post-procedure. However, the revision rhinoplasty swelling timeline typically only lasts a few days.
In addition, breathing through the nose may be difficult initially due to nasal swelling but should improve within two weeks.
It's also important to keep your head elevated, especially during the first few days after surgery, to reduce swelling and improve blood flow.
Light activities can be resumed within 48 hours, but strenuous activity, including heavy lifting and cardiovascular activities, should be avoided for approximately three weeks.
Long-Term Recovery
The long-term recovery from a revision rhinoplasty involves a gradual reduction in swelling and a slow return to normal activities. During this time, the nose continues to heal, and the final shape and appearance gradually emerge.
Regular follow-up appointments with the revision rhinoplasty surgeon are essential for long-term results. These appointments serve as a vital checkpoint to assess the progress of the healing process and make any necessary adjustments to ensure the most favorable outcome.
They provide an opportunity for the surgeon to address any concerns or questions the patient may have and offer guidance on post-operative care to optimize results.
Tips for a Smooth Revision Rhinoplasty Recovery Time
The recovery process after revision rhinoplasty surgery can be eased with a few simple steps. These include keeping your head elevated, maintaining a healthy diet, and avoiding certain activities and substances.
Keep Your Head Elevated
In the critical days following the revision rhinoplasty surgery, it's paramount to adhere to certain postoperative guidelines to facilitate the healing process and ensure optimal results.
One of the key recommendations is to keep your head elevated, particularly during the initial days of recovery. This simple yet effective measure can significantly improve blood flow to the entire nasal structure, which is crucial for the healing process.
It also aids in reducing nasal swelling, a common concern amongst patients post-surgery. To achieve this, you can use multiple pillows to prop your head while resting or sleeping. This position not only helps in managing the swelling but also provides comfort and eases the degree of pain experienced in the initial days after surgery.
Maintain a Healthy Diet
Maintaining a balanced diet post-revision rhinoplasty surgery is vital for the recovery process. A nutrient-rich diet aids the body's healing process, which is especially necessary after complex surgeries like revision rhinoplasty.
Consider consuming fruits, vegetables, lean proteins, and whole grains. These nutrients aid in reducing inflammation and swelling after rhinoplasty surgery, support tissue repair, boost immune function, and provide energy for recovery.
In addition to maintaining a healthy diet, it's also important to stay hydrated. Drinking plenty of fluids helps to flush out toxins from the body and keeps the tissues hydrated, promoting faster healing. Avoiding alcohol is also advisable as it can dehydrate the body and hinder the healing process.
Adhering to these dietary guidelines can support your body's healing process and potentially expedite your recovery time, helping you achieve a balanced and natural-looking facial appearance sooner.
Things Patients Should Avoid During the Revision Nose Job Healing Time
During the recovery period after a revision nose job, there are several things that patients should avoid to ensure a smooth healing process.
1. Strenuous activity, including heavy lifting and cardiovascular activities, should be avoided for at least three weeks. These activities can increase blood pressure, potentially leading to bleeding or increased swelling.
2. Sun exposure should be minimized as it can exacerbate swelling and potentially cause skin discoloration. It's recommended to wear a hat and apply sunscreen when going outside.
3. Certain medications, such as Advil and Motrin, may also increase the risk of bleeding and should be avoided for two weeks following surgery. Instead, patients may be prescribed specific pain medications to manage postoperative pain.
4. Avoiding chewy foods that can put unnecessary pressure on the nose and replacing them with soft, cool, and room-temperature foods can also aid in the recovery process. It's also advisable to avoid alcohol and smoking, as they can hinder the healing process by constricting blood vessels and delaying the body's healing response.
When to Seek a Consultation With a Revision Rhinoplasty Surgeon
When contemplating surgery, it's important to schedule a consultation with a highly experienced revision rhinoplasty expert like Dr. Becker, who is a board-certified plastic surgeon.
During the consultation, Dr. Becker will thoroughly assess the current condition of your nose, taking into account any scar tissue that may have developed from prior rhinoplasty or facial surgeries. He will also discuss your objectives for the revision surgery and offer personalized recommendations for the most suitable course of action.
To ensure patients are thoroughly informed and equipped with essential knowledge before embarking on this intricate procedure, The Becker Rhinoplasty Center also provides a wealth of educational resources, including rhinoplasty education. These resources encompass informative books and engaging educational videos, empowering individuals to make well-informed decisions about their rhinoplasty journey.