Breathing problems can significantly impact the quality of life, causing discomfort and limiting physical activity. While there are various factors that can contribute to breathing difficulties, such as allergies or infections, some people also experience breathing problems due to structural issues within the nose. In these cases, rhinoplasty, also known as a nose job, may be an effective solution for improved breathing.
What is Rhinoplasty?
Rhinoplasty surgery aims to alter the shape and size of the nose to improve its function and appearance. During the procedure, the surgeon may remove excess tissue, reshape the nasal bones or cartilage, or add material to build up certain areas of the nose.
Rhinoplasty can be performed for both functional and cosmetic reasons. When rhinoplasty is performed to address functional issues such as breathing difficulties, it is known as a functional rhinoplasty procedure or septorhinoplasty. There are a few different ways surgeons can correct breathing problems with rhinoplasty.
How Septoplasty Can Improve Breathing Problems
A septoplasty is a specific type of rhinoplasty that focuses on correcting breathing problems caused by a deviated septum. The septum is a thin piece of cartilage and bone that separates the nostrils and helps support the shape of the nose.
A deviated septum occurs when the septum is crooked, which can cause the blockage of one or both nasal passages. During septorhinoplasty, the surgeon straightens the deviated septum to improve airflow and alleviate breathing difficulties. The procedure can alleviate symptoms such as nasal congestion, snoring, and sleep apnea.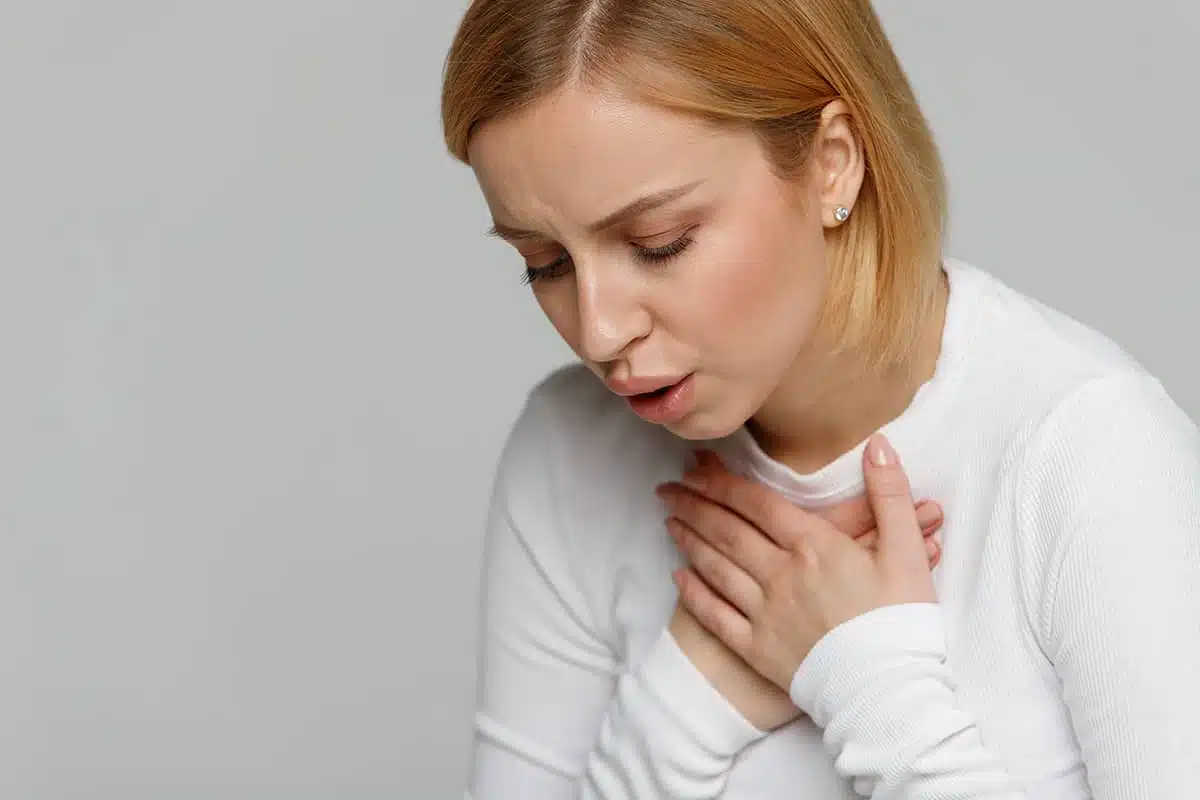 What to Expect During a Septoplasty Procedure
A septoplasty is typically performed by a plastic surgeon who specializes in rhinoplasty.
To start, the surgeon administers either local or general anesthesia. The type depends on the extent of the surgery and the preference of the patient and the surgeon. The goal is to minimize discomfort and pain.
The procedure involves making an incision inside the nose to access the septum and then reshaping or repositioning the septum to correct the deviation. This may involve removing excess cartilage or bone or straightening the septum. Once the surgeon has completed the necessary reshaping, the incision is closed with dissolvable sutures.
Following the rhinoplasty procedure, the patient is monitored in a recovery room until they are alert enough to go home. The surgeon then provides instructions for post-operative care, which may include avoiding physical activity, refraining from blowing the nose, and using a saline nasal spray to keep the nasal passages moist.
Septoplasty is generally considered a safe and effective procedure. However, like any surgery, it carries some risks, including bleeding, infection, and scarring. Recovery time may vary depending on the extent of the nasal surgery, but most patients can usually return to normal activities within a few weeks.
What Other Breathing Problems Can Rhinoplasty Address?
Nasal Polyps
Another common reason for breathing problems is the presence of nasal polyps. These are small, noncancerous growths that can develop within the nasal passages, causing blockages and making it difficult to breathe. Rhinoplasty can be used to remove these growths and improve breathing.
Nasal Turbinates
Rhinoplasty can also address other structural issues that may be causing nasal breathing issues. For example, if the nasal turbinates (small structures inside the nose) are swollen or enlarged, they can obstruct the nasal passages and impede breathing. Rhinoplasty can be used to reduce the size of the turbinates and improve airflow.
Narrow or Collapsed Nostrils
In some cases, rhinoplasty can also be used to address breathing problems caused by a narrow or collapsed nostril. This may occur due to a congenital condition or as a result of aging, injury, or previous surgery. By increasing the size of the nostrils or strengthening the surrounding tissue, rhinoplasty can help restore normal breathing.
The Benefits of Rhinoplasty for Breathing Problems
The benefits of solving breathing problems with rhinoplasty go beyond just physical comfort. Rhinoplasty can also improve your quality of life in many ways. These are just a few potential benefits of nose surgery:
Improved breathing: Rhinoplasty can correct structural issues that can cause breathing problems, including a deviated septum, nasal valve collapse, or enlarged turbinates. By correcting these issues, the surgery can improve the flow of air through the nose, making breathing easier and more comfortable.
Reduced snoring: If breathing problems are causing you to snore, rhinoplasty may help reduce or eliminate snoring by correcting the underlying structural issues within the nose.
Improved quality of life: Breathing difficulties can affect your quality of life, causing fatigue, poor sleep, and decreased ability to exercise or perform physical activities. By improving your breathing, rhinoplasty can help you feel more energized, rested, and able to enjoy your daily activities.
Improved sense of smell: If you have a structural issue within your nose that is impacting your sense of smell, rhinoplasty may be able to correct it, leading to an improved sense of smell.
Improvements in the size and shape of the nose: While functionality may be your main concern, rhinoplasty also has the dual benefit of being able to reshape the nose, which may enhance your facial appearance.
It is important to note that it is not always possible to solve breathing problems with rhinoplasty.
Some issues that cannot be rectified with rhinoplasty include asthma, chronic obstructive pulmonary disease (COPD), emphysema, and pulmonary fibrosis. Your surgeon will need to assess the underlying cause of your breathing issues to determine whether rhinoplasty is an appropriate treatment option for you.
If you're considering rhinoplasty for functional reasons, it's important to find a qualified, expert plastic surgeon who specializes in this procedure. The right surgeon will be able to assess your individual needs, explain the risks and benefits of the procedure, and help you determine if rhinoplasty is the best solution for you.
Why Choose Becker Rhinoplasty Center?
Becker Rhinoplasty Center is one of the leading rhinoplasty practices in the United States. The center was founded by Dr. Daniel G. Becker, a board-certified facial plastic surgeon who specializes in rhinoplasty and revision rhinoplasty.
In 1986, Dr. Becker graduated from Harvard College with magna cum laude honors. He completed his Otolaryngology-Head & Neck Surgery training at the University of Virginia Medical Center and then pursued a fellowship in Facial Plastic and Reconstructive Surgery at the University of Illinois at Chicago. He subsequently became a faculty member at the University of Pennsylvania in 1997.
In addition to heading the Becker Rhinoplasty Center and lecturing as a Clinical Professor of Facial Plastic Surgery (Rhinoplasty) at the University of Pennsylvania, Dr. Becker is an accomplished author and international lecturer who has received numerous awards and recognitions for his expertise in the field.
Becker Rhinoplasty Center has treated hundreds of patients with a wide range of conditions, including structural issues that cause breathing problems. With locations in Sewell and Voorhees, the practice serves patients in both Central and Southern New Jersey, as well as patients from out of state and abroad who are seeking world-class rhinoplasty advice and care.
Contact Becker Rhinoplasty Center today to book a consultation and find out how rhinoplasty can vastly improve your breathing and overall quality of life.