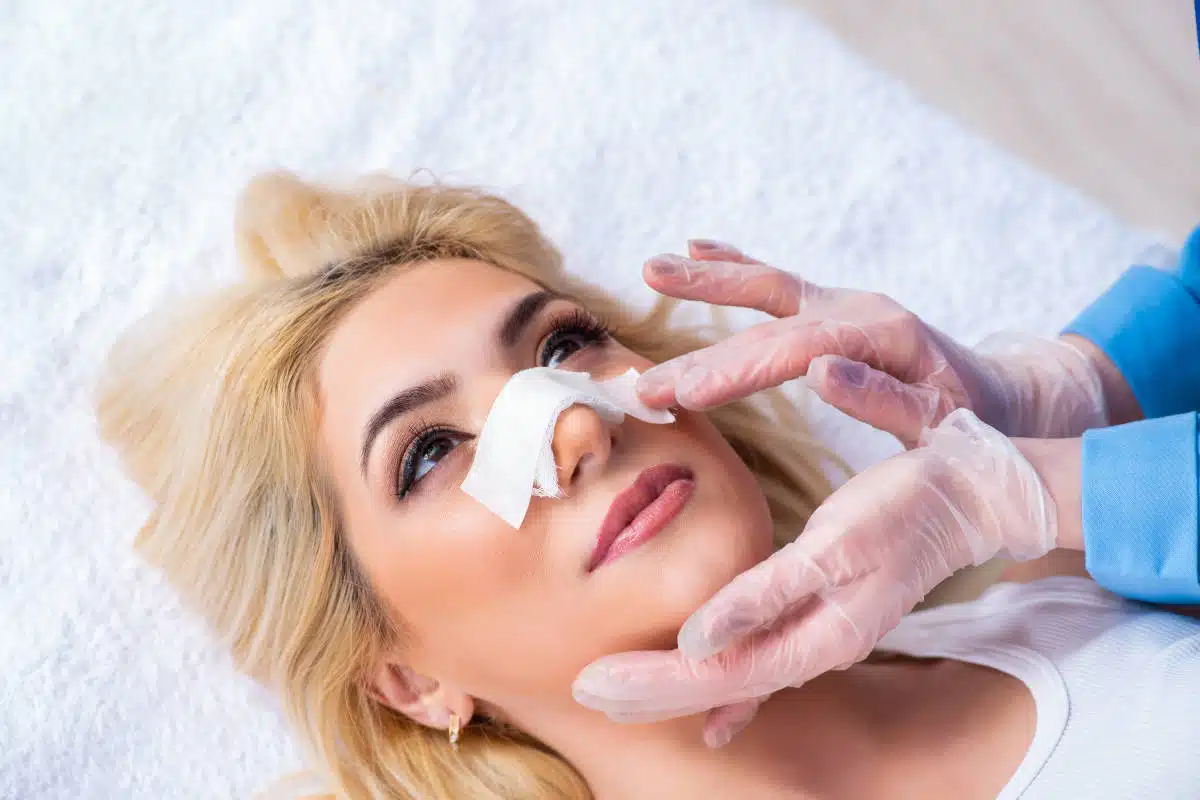 As one of the most common cosmetic surgical procedures, rhinoplasty (or a nose job) can greatly improve the appearance and function of the nose. However, many patients are understandably concerned about the recovery process and how long it will take to get back to normal activities. In this post, we'll discuss the overall recovery time for rhinoplasty and revision rhinoplasty, the typical recovery timeline, and tips to help speed up the healing process.
How Long Is The Healing Process after a Nose Job?
The recovery time for a nose job varies from person to person, and each individual's healing process will be different so it is good to plan plane trips carefully before rhinoplasty. In general, most patients can expect to return to work and light daily activities 2-3 weeks post – surgery. For a complete recovery from the surgery, including the resolution of any residual swelling or the final shape of the nose, can take up to a year or more. It's important to be patient during this time and follow your plastic surgeon's personalized advice and post-operative instructions to ensure a smooth recovery.
The Rhinoplasty Recovery Timeline
1 Day Post-Op
In the first 24 hours after your rhinoplasty procedure, it's common to experience facial swelling, mild pain or discomfort, and some nasal bleeding.
These symptoms are typical during the initial recovery period and should be manageable with pain medication and a cold compress. During this time, it's essential to get plenty of rest, keep your head elevated, and avoid any physical exertion. Proper healing begins in these crucial hours after surgery, and following your surgeon's post-operative instructions will help ensure a smooth recovery.
1 Week Post-Op
Seven days after surgery, your plastic surgeon will likely remove your nasal splint and any stitches. You may still have some noticeable swelling and facial bruising, but most patients can start to resume light activities at this point. Paying attention to aftercare instructions is important for a successful recovery and minimizing the risk of complications. It's essential to avoid strenuous activities, protect your nose from direct sun exposure, and maintain a nutritious diet to promote healing. Attending all scheduled follow-up appointments is also vital to monitor your progress and address any questions about recovery.
2 Weeks Post-Op
Two weeks after your nose surgery, you should notice a significant reduction in facial swelling and level of discomfort. Most patients can return to work and resume daily activities without showing noticeable signs of surgery but should continue to avoid strenuous exercise and any activities that could potentially cause injury to their noses. Healthy food, sufficient rest, and using cold compresses or ice packs on swollen nasal tissues will support proper blood flow and healing.
By adhering to your surgeon's post-operative instructions, you can ensure a smooth recovery process and minimize potential risks associated with an open rhinoplasty surgery.
1 Month Post-Op
A month after your rhinoplasty procedure, most patients can resume light exercise and cardiovascular activities. It's still important to avoid any strenuous activities or contact sports that could cause damage to your healing nose tissue. You may still have some residual swelling, but this should continue to subside over the next couple of months. During this time, it's essential to maintain a balanced diet, rich in protein and minerals, to provide your body with the nutrients it needs to heal. Attending regular follow-up appointments with your plastic surgeon will also help ensure that your recovery is on track and address any concerns you may have.
Six Weeks Post-Op
3-6 months after your nasal surgery, you should be able to return to most normal activities, including more intense physical activities and sports. However, continue following your surgeon's personalized instructions and attend any additional follow-up appointments. Keep in mind that some nasal swelling may still be present and can take several more months to resolve fully. By staying diligent and patient during your rhinoplasty recovery process, you can achieve the best possible results from your cosmetic surgery procedure.
How to Speed Up the Healing Process
Follow Your Surgeon's Instructions
Adhering to your plastic surgeon's post-operative instructions is crucial for a smooth recovery and minimizing the risk of complications. Make sure to attend all follow-up appointments and ask any questions about recovery that you may have.
Avoid Vigorous Exercise
It's essential to avoid any vigorous exercise or strenuous activities during the initial weeks of recovery. Overexerting yourself can increase the risk of complications, such as increased swelling, bleeding, or damage to your nose. Gradually increase your activity levels as advised by your surgeon.
Sleep Reclined
During the first few weeks, sleeping on your back with your head elevated can help reduce swelling and promote proper blood flow. It's recommended to use pillows to prop yourself up at a 45-degree angle while sleeping for the first few weeks after surgery.
Get Plenty of Rest
Getting sufficient rest is essential for a smooth recovery. Ensure that you're getting enough sleep and avoid overexerting yourself during the healing process. Listen to your body and give it the time it needs to heal properly.
Eat More Veggies and Protein
A healthy diet can significantly impact your recovery process. Focus on consuming foods rich in protein and vegetables, as they provide your body with the nutrients it needs to heal. Protein-rich foods like lean meats, fish, and beans can help repair damaged tissues, while vegetables provide essential vitamins and minerals.
Use Cold Compresses
Applying cold compresses or ice packs to the area around your nose can help swelling subside and alleviate discomfort. Be sure to wrap the compress in a soft cloth to avoid direct contact with your nasal skin. Follow your surgeon's recommendations on how often to apply cold compresses during the recovery period.
Don't Smoke
Smoking can significantly slow down the healing process and increase the risk of complications after rhinoplasty surgery. It's crucial to avoid smoking for at least a few weeks before and after your procedure to ensure proper healing and minimize potential risks.
Keep It Cool
Staying in a cool environment during your recovery can help reduce rhinoplasty swelling and discomfort. Keep the temperature in your home comfortable and avoid activities that could cause you to overheat, such as spending time in saunas or hot tubs.
Keep Your Head Elevated
Keeping your head in an elevated position during the initial recovery period can help minimize congestion, swelling, and bleeding, even when you are not sleeping. Avoid bending over or lifting heavy objects for the first few weeks after surgery.
Do Not Blow Your Nose
Blowing your nose can increase pressure in the nasal passage and potentially cause complications during the healing process. Avoid blowing your nose for at least the first week after surgery, and follow your surgeon's instructions on when it's safe to do so.
Don't Wear Glasses
Avoid wearing glasses or sunglasses for the first few weeks after your nose job surgery. The pressure from the frames can cause indentations and affect the healing process. Your surgeon may recommend using tape to support your glasses or switching to contact lenses during the recovery period.
Stay Away From the Sun
Excessive sun exposure can increase the risk of complications and prolong the healing process. Protect your skin from the sun by wearing a wide-brimmed hat and applying a broad-spectrum sunscreen with an SPF of 30 or higher. Limit your time outdoors, especially during peak sun hours, and avoid tanning beds for at least a few months after surgery.
Choosing the Right Plastic Surgeon to Ensure a Smooth Recovery
Selecting a qualified and experienced plastic surgeon is crucial for a successful rhinoplasty and a smooth recovery. Dr. Daniel G. Becker of Becker Rhinoplasty Center in New Jersey is an expert in rhinoplasty. His expertise allows him to make precise surgical decisions, minimize complications, and optimize the healing process.
Look for a board-certified surgeon, who has extensive experience with rhinoplasty procedures and can provide before-and-after photos of their work. Additionally, choose a surgeon who prioritizes patient education and provides personalized instructions for post-procedure care.
During your consultation, ask questions about the surgeon's experience, their approach to rhinoplasty, and their recommendations for your specific needs. A skilled and compassionate surgeon will be able to address your concerns, provide personalized advice, and ensure a safe and effective procedure with optimal results.